Top Dentists for Root Canal Treatment in India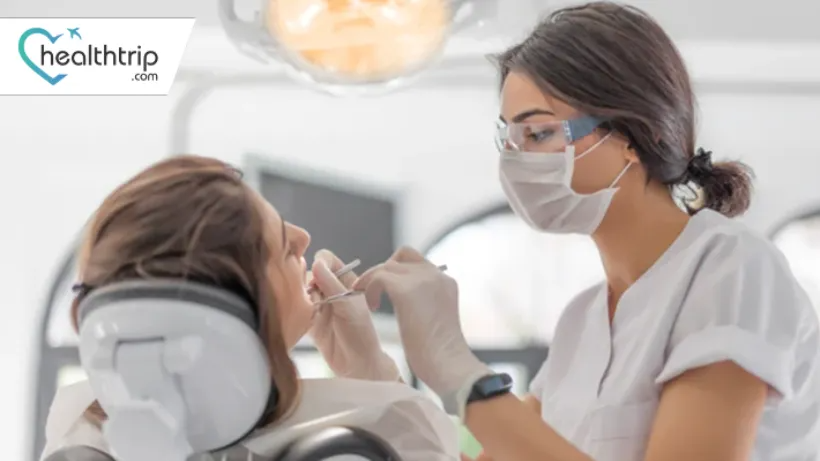 Introduction:
A healthy smile is a powerful asset, and maintaining oral health is vital for overall well-being. Root canal treatment is a dental procedure that can save a damaged or infected tooth, alleviating pain and preserving your smile. India is home to a diverse range of highly skilled and experienced dentists who specialize in root canal treatment. In this comprehensive guide, we will explore the top dentists for root canal treatment in India, their expertise, and the unique approaches they bring to restoring your dental health.
Book free consulting session with HealthTrip expert
Understanding Root Canal Treatment:
Root canal treatment, also known as endodontic therapy, is a dental procedure designed to repair and save a tooth that has become infected or severely damaged. The procedure involves removing the damaged or infected pulp (the innermost part of the tooth), cleaning and disinfecting the tooth's interior, and sealing it to prevent further infection.
Consultant- Dentist
Apollo Gleneagles Hospitals, Kolkata India
Years of Experience: 20+
Specialisation: Oral and Maxillofacial Surgeon
Areas of Expertise:
Specialised interest in head and neck surgery
Extensive experience in oral and maxillofacial surgery
Dr. Kaustubh Das is a Consultant Oral and Maxillofacial Surgeon at Apollo Gleneagles Hospital, Kolkata.
He has a specialised interest in head and neck surgery, showcasing his expertise in this field.
Currently, he is fully engaged in his practice at Apollo Gleneagles Hospital and also runs a private practice at Aspire Clinic, Kolkata.
He completed his basic qualification at Calcutta University in 2001, marking the beginning of his journey in the medical field.
Dr. Das's dedication to professional growth led him to extensive training in both Indian and UK maxillofacial units as a Senior House Officer (SHO) from 2005 to 2009.
Maxillofacial Surgeon
Consults at: Amrita Hospital Faridabad
Dr. Arun Sharma is a renowned Oral & Maxillofacial Surgeon based in Central Delhi with over 11 years of medical practice experience.
He is currently associated with BLK Super Speciality Hospital as a consultant.
Dr. Arun Sharma has a diverse professional background and has worked at various esteemed institutions, including Goa Dental College and Hospital, Jaipur Golden Hospital, and PDM Dental College.
He specialises in a wide range of procedures, including Dental Implant Fixing, Orthognathic Surgery, Tooth Extraction, Jaw Reshaping, Trauma Care, and Chin Augmentation (Mentoplasty).
Dr. Arun Sharma obtained his BDS degree from Manipal College of Dental Sciences, Mangalore in 2005.
He pursued his MDS in Oral & Maxillofacial Surgery from KLE Vishwanath Katti Institute of Dental Sciences, Belgaum in 2009.
In addition to his professional engagements, Dr. Arun Sharma is an active member of prestigious institutions such as AOCMF and the Association of Oral and Maxillofacial Surgeons of India (AOMSI).
He offers various services to his patients, including Dental Implant Fixing, Orthognathic Surgery, and Tooth Extraction.
Specialized Procedures:
Dental Implant Fixing
Orthognathic Surgery
Tooth Extraction
Jaw Reshaping
Root canal
Trauma Care
Chin Augmentation (Mentoplasty)
·
Consultant - Dental Science
Consults at: Fortis Hospital Anandapur Kolkata
Dr. Sandeep Kumar Mitra is an Orthodontist with expertise in Dentistry.
He practices at Fortis Hospital Anandapur, Kolkata.
Dr. Mitra's OPD schedule is on Mondays and Wednesdays from 1 p.m. to 2 p.m.
He holds the degrees of BDS and MDS in Orthodontics and Dentofacial Orthopaedics.
Dr. Mitra has more than 8 years of experience in the field of Dentistry.
He specializes in treating dental malocclusions and dentofacial anomalies using fixed (Braces, etc.) and removable appliances to realign teeth and jaws for improved function and appearance.
His clinical interests encompass Metal and Ceramic Braces, Clear Aligners, Lingual Braces, Dentofacial Orthopaedics, Habit Breakers, Surgical Orthodontics, Adult Orthodontics, TM Joint Disorders, Cleft Lip and Palate, and Obstructive Sleep Apnoea.
Dr. Mitra has previously worked as an orthodontist at Woodland Hospital Kolkata and Special Dental Clinic.
He is skilled in various dental procedures, including Cast Partial Denture, Pyorrhea Treatment, Ceramic Crown and Bridge Fixing, and Flap Surgery.
Treatments:
Tooth air polishing
Dental sleep medicine
Surgical tooth extraction
Ceramic dental braces
Porcelain inlays
Traumatic injuries dental
Ceramic veneers crowns
Dental Restoration
Dental Braces Fixing
Zirconia Crowns
Mouth Bleed etc.
Senior Consultant
Consults at: Delhi ENT Hospital
Dr Neha Gupta is a skilled & highly competent implantologist and periodontist. She is well experienced in treatment and prevention of periodontal diseases and surgical management of gum disease.
Dr Gupta strongly believes in providing quality dental care and her goal is to give her patients a positive and memorable experience every time they visit the clinic.
Her total experience in the field of dentistry is 16 years.
Dr Neha Gupta graduated in 2002 from the College of Dental Surgery, Manipal.
She completed post graduation periodontology and implantology from the same college. College of Dental Surgery ,Manipal is internationally well known for its quality & has been rated as the best dental school in India. She did residency at prestigious Sir Ganga Ram Hospital, New Delhi.
Dr Gupta presently heads a department in a private dental college and is a senior periodontist and implantologist in Delhi ENT hospital since 2007.
Dr Neha Gupta is well experienced in gum surgeries, Laser assisted therapy, oral implants & has won award for Best Paper presentation at IAACD(Indian academy of aesthetic and cosmetic dentistry) conference in october2007,International stem cell research conference ,WCOI(world congress of oral implantology).
Areas of interest:
Implantology: Immediate restoration(replacement of missing teeth)
Periodontology: Nonsurgical and surgical therapy for periodontal diseases.
Cosmetic and laser treatment
Dental Surgeon & Implantologist
Consults at: Sujay's Dental Care
Profession: Dental Surgeon & Implantologist
Current Practice: Sujay's Dental Care
Years of Experience: 15+
Dental Surgeon and Implantologist Co-Founder of Sujay's Health Care Pvt. Ltd., Suviz Clinical Hub, and Sujay's Dental Care (OPC) Pvt. Ltd.

Credentials

March 2017: Awarded as the "Best Oral Implantologist in Bangalore – 2017" from Blindwink.in – The Market Research Company.
Nov 2016: Awarded as Best Dentist in Basavangudi, Bangalore
2015: Member and Fellowship from International Congress Of Oral Implantology [FICOI]. Under Dr. Vibha Shetty. At M S Ramaiah University of Applied Sciences.
2011: Certificate in Implantology from IDEA ,Chennai under Dr. MUNIRATHNAM E.NAIDU.
2010: Lifetime Member of Indian Dental Association
2008: Certificate in Esthetic Dentistry from University of MANNITOBA, at IDRR.
2007: BDS (GDCRI Bangalore)
Conclusion:
Root canal treatment is a crucial dental procedure that can save your natural teeth and alleviate pain. In India, you have access to some of the top dentists who specialise in root canal treatments, offering their unique approaches and expertise to ensure successful outcomes.