By Healthtrip
Blog Published on - 08 September - 2023
Top 10 Neonatologists in India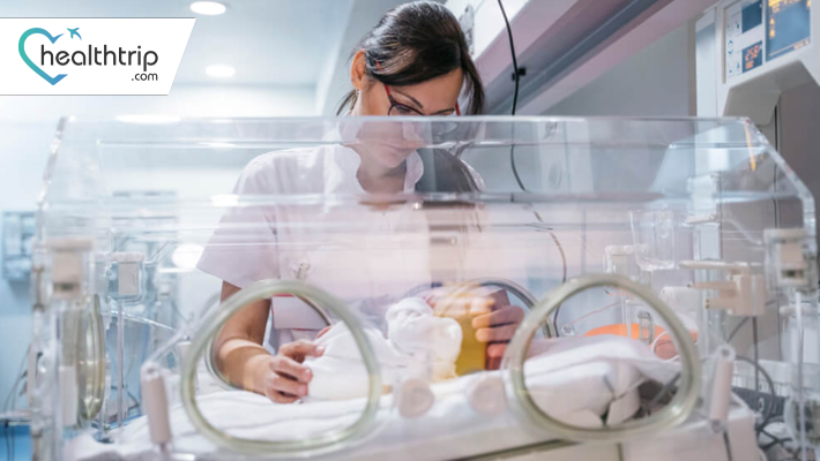 Introduction:
The realm of neonatology plays a vital role in ensuring the well-being and healthy development of newborns. Neonatologists, medical professionals specializing in the care of premature or ill newborns, have the expertise to provide comprehensive medical attention to these fragile lives. In India, a country with a high birth rate, the demand for proficient neonatologists is significant. This blog highlights the top 10 neonatologists in India who have excelled in their field and are dedicated to safeguarding the lives of the tiniest patients.
Book free consulting session with HealthTrip expert
Consults at: Wockhardt Hospitals, Mira Road, Mumbai
Dr. Badshah S. Khan: Experienced Pediatrician at Wockhardt Hospital, Mira Road, Mumbai
15 years of expertise in Pediatric and Neonatology Care
Education: MD - Physician degree from Dagestan State Medical Academy (2002), Diploma in Child Health (DCH) from College of Physicians and Surgeons Mumbai (2010)
Member of Maharashtra Medical Council
Services: Allergy Testing, Bedwetting management, Bronchial Asthma Treatment, Infectious Disease Treatment, Fever Treatment
Expertise: General Pediatrics, Vaccination, Diagnosis of Routine Illnesses (e.g., Childhood Asthma, Gastroenteritis), Developmental Assessment in toddlers, Chronic Constipation in Pediatric Age, Routine and Special Immunization, Parenting Advice & Guidance
Holds M.D. and D.C.H. degrees
Consults at : Fortis Hiranandani Hospital Vashi, Navi Mumbai
Dr. Kumar Salvi, a respected Pediatrician and Neonatologist at Fortis Hiranandani Hospital, Vashi
Over 9 years of experience in pediatric medicine
MBBS degree from NDMVPS, Nasik in 2002
MD in Pediatrics from KEM Hospital and Seth GSMC in 2008
Proficient in managing a broad range of pediatric cases, from newborns to older children
Specialized expertise in neonatology, including handling extremely preterm babies and advanced neonatal ventilation
Actively participates in National and International Pediatric and Neonatology conferences and workshops
Expertise in treating common pediatric conditions like Newborn Jaundice, Chickenpox Treatment, Measles Treatment, and Bronchial Asthma Treatment.
Consults at: Amrita Hospital Faridabad
Dr. Pooja Khanna: Assistant Professor in Pediatrics
Education: Graduated from Kasturba Medical College, Manipal
Specialization: Pediatrics from Chacha Nehru Bal Chikit Salaya, New Delhi (affiliated with Maulana Azad Medical College, Delhi)
Work Experience: Dr. B L Kapur Memorial Hospital, New Delhi, and various Delhi NCR medical centers
Expertise: General Pediatrics
Areas of Interest: Child growth, nutrition, immunization, and psychological development
Dedicated to the well-being of children and adolescents.
Consults at: Fortis Hiranandani Hospital Vashi, Navi Mumbai
Dr. Nikhil Ganjoo: UK-trained Paediatrician with Neonatal Expertise
Neonatal Training: Cambridge and London Luton Units
Education: MBBS from Rajiv Gandhi University of Health Sciences, Bangalore
MRCPCH Qualification: RCPCH, London (2013)
Specialization: SPIN in Neonatology (2017)
Qualifications: Postgraduate Certificate in Medical Education (2015), Leadership Certificate (University of Cambridge)
Genomic Medicine: Postgraduate Certificate with distinction (2021)
Recognitions: FRCPCH, CCT-UK in Paediatrics (2018)
Initiatives: Introduced Less Invasive Surfactant Administration, research in neonatal sepsis
Engagement: Presented at UK and international conferences, authored articles, co-authored a chapter
Compassionate Care: Expert in Antenatal counseling, Premature baby care, Respiratory distress syndrome, Brain injury, Newborn care, vaccinations, and ongoing pediatric care.
Consults at: Apollo Gleneagles Hospitals, Kolkata
Dr. Alokananda Das is a highly regarded Consultant Neonatologist and Paediatrician with an extensive practice in Kolkata's prominent hospitals, including Apollo Gleneagles Hospital, Woodlands Multispecialty Hospital, Asia-Columbia Hospital, Bellevue Clinic, and Mission of Mercy Hospital.
She specializes in performing echocardiography in neonates, adept at identifying Common Congenital Heart Lesions or Congenital Heart Defects.
Her training spans both the UK and Kolkata, including work in the Paediatric Intensive Care Unit in Middlesboro, UK.
Dr. Das boasts 17 years of experience in pediatrics, neonatology, and pediatric intensive care, with 8 years in the UK.
She excels in neonatal cranial ultrasounds and holds a medical degree from Calcutta University, with a DCH from the Royal College of Paediatrics and Child Health, UK.
Dr. Das is a respected life member of the Indian Academy of Paediatrics and the National Neonatology Forum.
Her contributions to medical institutes, involvement in research projects, and dedication to medical education through surveys, audits, and teaching roles underscore her commitment to healthcare improvement.
Consults at: Amrita Hospital Faridabad
Dr. Ruchi Gaba is an accomplished Assistant Professor at Amrita Hospital, specializing in Pediatrics.
She holds degrees in MBBS and MD (Pediatrics) from prestigious institutions in India.
With over 8 years of experience as a Pediatrician, she earned her MD degree from Sawai Man Singh (SMS) Medical College and Hospital, Jaipur.
Dr. Gaba trained across all subspecialties of Pediatrics at JK Lon Hospital, one of India's largest Pediatric centers.
She worked as a Senior Resident in the corporate sector before joining Hindu Rao Hospital and North Delhi Medical College.
Dr. Gaba's dedication to medical advancement is evident through her role as a Senior Research Fellow at AIIMS, New Delhi.
Her research covers crucial areas like Cystic Fibrosis, Asthma, Tuberculosis, Dengue, and infectious diseases.
Dr. Gaba specializes in Nutritional disorders, Immunization strategies, Breastfeeding support, Growth assessments, Infectious diseases management, Asthma treatment, and Nephrotic syndrome care.
She holds certification in Paediatric Advanced Life Support (PALS).
Dr. Gaba received recognition, including a Silver medal for her paper on "Hepatitis C in Thalassemia major patients" presented in Jaisalmer, Rajasthan.
Consults at: Amrita Hospital Faridabad
Dr. Hemant Sharma: Certified Neonatologist by National Board of Examinations (India)
Diverse experience from major medical centers in Mumbai, Noida, and Amrita Hospital
Over 10 years in Pediatrics and Neonatology, a dedicated specialist
Completed super-specialty DrNB (Neonatology) from Surya Hospital, Mumbai in 2018
Surya Hospital, India's largest private sector NICU, highlights commitment
Chief Neonatologist at Kailash Hospital, Delhi/NCR, established Neonatal unit and enhanced Infection Control
Expertise in managing Extremely Preterm and critically ill neonates
Academic achievements: University topper in MBBS Pharmacology and Internal Medicine (2010), Diplomate National Board of Examinations in Medical Science (Pediatrics) (2016), DrNB (Neonatology) in 2020
Holistic experience, comprehensive training, and unwavering dedication in Neonatology.
Consults at: Fortis Hospital, Noida
Dr. Ashutosh Sinha served as the Head and Associate Director in Paediatrics and Pediatric Intensive Care Unit at Jaypee Hospital before joining Fortis Hospital.
He boasts over 20 years of experience in pediatrics and 15 years in Children's Intensive Care.
Dr. Sinha is an accredited teacher for Paediatric Intensive Care in India and a national faculty for training by Simulation.
He received extensive training in Pediatric Intensive Care from renowned UK institutions, including Great Ormond Street Hospital, Imperial College London, and Royal Brompton Hospital for Children.
Dr. Sinha worked as a consultant in Paediatrics and Pediatric Intensive Care at John Radcliffe Hospital, Oxford, UK.
He is proficient in managing pediatric emergencies and intensive care.
Dr. Sinha holds postgraduate qualifications in Pediatric Allergy & Asthma from Southampton University Hospital, UK.
He is certified in Pediatric Bronchoscopy from the European Respiratory Society, Paris, France.
Dr. Sinha is an assessor for the Royal College of Paediatrics, London, UK.
He actively engages in teaching medical graduates and trainees in Paediatrics and Intensive Care.
Dr. Sinha serves as an NABH assessor and participates in the accreditation process.
He contributes to academic activities and presents talks at IAP National Conferences as faculty.
Dr. Sinha is a faculty member for various workshops training pediatricians and conducting Simulation workshops.
Consults at: Artemis Hospital
Dr. Nitin Goel, Assistant Professor of Paediatric Surgery at Grants Medical College and Sir J.J. Group of Hospitals, Mumbai.
Vast experience with over ten years in prestigious Indian hospitals.
Impressive surgical camp performance, operating on 45 patients in two days during an NRHM program in Shahpur, Maharashtra.
Expertise in General and Laparoscopic Pediatric surgery, including hernia, appendicitis, abdominal cysts, and lumps.
Specializes in Pediatric Thoracic and Video Assisted Thoracic Surgery, Pediatric Urology (hydronephrosis, post urethral valves), and Pediatric GI surgery (Choledochal cyst, Biliary atresia).
Proficient in Pediatric Neurosurgery (Meningomyelocele, congenital hydrocephalus) and Neonatal surgery for congenital anomalies, along with Antenatal Counseling.
Medical focuses encompass Neonatal surgery, Paediatric Urology, and Laparoscopic Paediatric Surgery.
Offers a range of procedures, including Paediatric Urology, Paediatric GI surgery, Antenatal counseling, Paediatric Neurosurgery, Neonatal Surgery, Paediatric Laparoscopic Surgery, Paediatric thoracic and Video Assisted Thoracic Surgery (VATS), and General Paediatric Surgery.
Consults at: MARENGO ASIA HOSPITAL, FARIDABAD

Dr. Rajesh Sharma, Program Clinical Director of Pediatric Cardiac Surgery at Marengo Asia Hospitals, Faridabad.
Renowned pediatric cardiothoracic surgeon with 30+ years of experience.
Over 20,000 successful pediatric cardiac surgical procedures.
Expertise in congenital and acquired heart diseases.
Proficient in complex procedures like Pediatric ECMO, Heart Transplant, and Pediatric LVADs.
Qualifications: M.B.B.S, M.S. (General Surgery), M.Ch. (Cardiothoracic and Vascular Surgery).
Fellowships in Pediatric Cardiovascular Surgery from prestigious institutions in the USA.
Specializes in surgeries for complex heart defects, including Transposition of the Great Arteries.
Advocates biventricular repair and minimizes Fontan circulation use.
Active member of medical associations like IACTS, WSPCCS, and PCSI.


Conclusion:
The top neonatologists in India are not just medical practitioners; they are dedicated advocates for the tiniest lives. Their unwavering commitment, innovative practices, and research-oriented approaches have significantly improved neonatal care in the country. As medical science continues to advance, these experts will undoubtedly play a pivotal role in shaping the future of newborn care, ensuring a healthier start for India's youngest generation. With their recent contributions and ongoing dedication, these neonatologists are paving the way for a brighter and healthier future for India's newborns.
Read also: Advances in Neonatology: Ensuring the Best Start for Every Newborn