Apollo Hospitals' International Patient Services: A Comprehensive Guide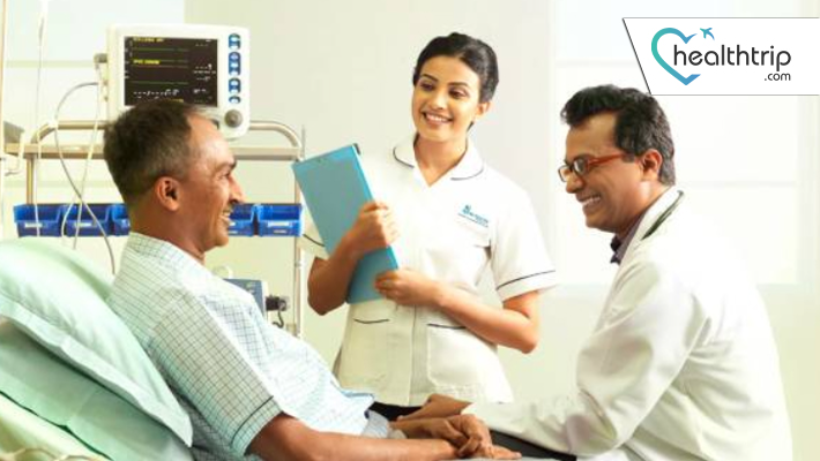 Apollo Hospitals, one of the leading healthcare providers in the world, is renowned for its exceptional medical services and state-of-the-art facilities. The institution offers specialized programs tailored to meet the needs of international patients seeking top-quality healthcare in India. This comprehensive guide aims to provide an overview of Apollo Hospitals' International Patient Services, highlighting the range of services offered, the advantages of choosing Apollo Hospitals, and the seamless patient experience that awaits those who seek medical treatment at this esteemed institution.
Book free consulting session with HealthTrip expert
Why Choose Apollo Hospitals for International Medical Treatment
Apollo Hospitals has earned a stellar reputation as a preferred destination for international patients seeking medical treatment for a variety of reasons. Firstly, the institution boasts a vast network of hospitals and clinics across India, ensuring accessibility to quality healthcare services. With over 38 multi-specialty hospitals and a dedicated team of renowned medical professionals, Apollo Hospitals offers world-class treatment across various medical disciplines.
Secondly, Apollo Hospitals' International Patient Services prioritize patient safety, comfort, and satisfaction. The institution strictly adheres to international standards and protocols, ensuring the highest quality of care at every step. This commitment to excellence is reflected in the hospital's multiple accreditations and certifications.
Moreover, Apollo Hospitals is equipped with cutting-edge technology and infrastructure, enabling the delivery of advanced medical procedures and treatments. The hospitals feature state-of-the-art diagnostic facilities, modern operation theaters, and specialized units for various medical specialties.
Services Offered to International Patients
Apollo Hospitals' International Patient Services provide a wide array of services to facilitate a seamless experience for patients traveling from abroad. These services include:
a) Pre-arrival Assistance: Apollo Hospitals assigns a dedicated coordinator to assist international patients from the moment they express interest in seeking treatment. The coordinator helps with scheduling appointments, organizing medical records, and providing comprehensive information about the treatment process.
b) Visa Assistance: Apollo Hospitals supports international patients in obtaining medical visas to India by facilitating the visa application process and providing the necessary documentation.
c) Airport Transfers and Accommodation: The institution ensures that patients and their companions have a hassle-free journey by arranging airport transfers and assisting in finding suitable accommodation close to the hospital.
d) Language Interpretation Services: To overcome language barriers, Apollo Hospitals provides professional interpreters proficient in various languages to ensure effective communication between patients and medical staff.
e) International Insurance Coordination: Apollo Hospitals works closely with international insurance companies to facilitate direct billing and streamline insurance claims for eligible patients.
f) Second Opinion Services: For patients seeking a second opinion, Apollo Hospitals offers remote consultation services, providing expert advice from renowned specialists without the need for travel.
g) International Patient Lounges: Dedicated lounges are available for international patients, offering a comfortable and private environment where they can relax and await their appointments.
Specialized Medical Programs
Apollo Hospitals' International Patient Services offer specialized medical programs catering to the unique needs of patients seeking treatment in various medical disciplines. These programs include:
a) Cardiac Care: Apollo Hospitals is globally recognized for its expertise in cardiac care, encompassing preventive cardiology, non-invasive cardiology, interventional cardiology, electrophysiology, and cardiac rehabilitation.
b) Oncology: The institution houses state-of-the-art cancer centers that provide comprehensive cancer care, including radiation therapy, chemotherapy, surgical oncology, and stem cell transplantation.
c) Organ Transplantation: Apollo Hospitals is at the forefront of organ transplantation, performing successful procedures for liver, kidney, heart, lung, and bone marrow transplants. The hospital boasts a dedicated transplant team and advanced infrastructure for pre and post-transplant care.
d) Orthopedics: With a specialized department for orthopedics and joint replacements, Apollo Hospitals offers advanced treatment such as arthroscopy, joint replacement surgeries, sports medicine, and rehabilitation services. The hospital's orthopedic specialists utilize the latest techniques and technologies to provide personalized care and ensure optimal outcomes.
e) Neurology and Neurosurgery: Apollo Hospitals has a renowned neurology and neurosurgery department, specializing in the diagnosis and treatment of complex neurological conditions. The hospital offers advanced procedures such as brain and spine surgeries, neurorehabilitation, and epilepsy management.
f) Fertility and IVF: Apollo Hospitals' fertility centers provide comprehensive reproductive services, including in vitro fertilization (IVF), intrauterine insemination (IUI), egg and sperm donation, and fertility preservation. The hospital's experienced fertility specialists offer personalized treatment plans to help couples achieve their dream of parenthood.
g) Advanced Surgical Specialties: Apollo Hospitals excels in various surgical specialties, including minimally invasive surgery, bariatric surgery, plastic and reconstructive surgery, and urology. The hospital's surgical teams are highly skilled and experienced, utilizing the latest techniques to ensure optimal surgical outcomes.
Patient Testimonials and Success Stories
Numerous international patients have shared their positive experiences and success stories after receiving treatment at Apollo Hospitals. These testimonials highlight the excellent medical care, compassionate staff, and successful treatment outcomes. Patients from different countries have expressed their gratitude for the professionalism, expertise, and personalized attention they received throughout their healthcare journey at Apollo Hospitals.

Conclusion
Apollo Hospitals' International Patient Services provide a comprehensive and patient-centric approach to medical care for individuals traveling from abroad. With a focus on excellence, cutting-edge technology, and a wide range of specialized medical programs, Apollo Hospitals offers a world-class healthcare experience. From pre-arrival assistance to dedicated patient coordinators, language interpretation services, and state-of-the-art facilities, Apollo Hospitals ensures the comfort, safety, and satisfaction of international patients seeking top-quality treatment in India. Choosing Apollo Hospitals for medical treatment provides access to renowned medical professionals, advanced procedures, and a seamless healthcare journey that prioritizes patient well-being and successful treatment outcomes.