By Ashutosh
Blog Published on - 22 September - 2023
UAE's Elite Luxury Wellness Retreats in Thailand A Royal Escape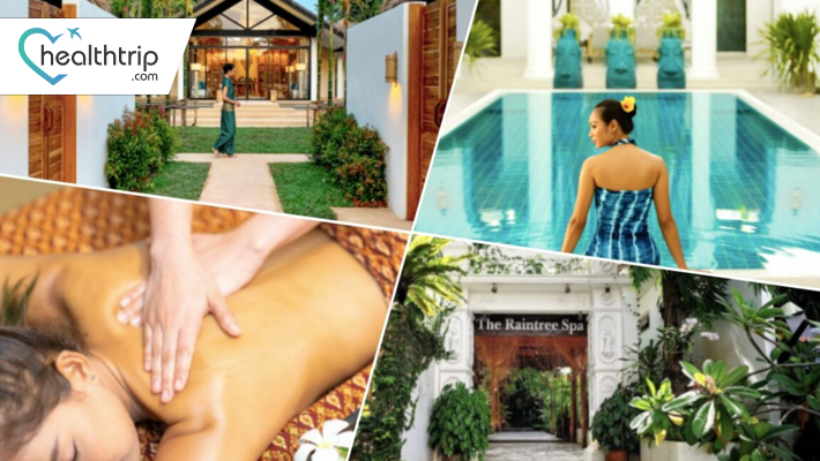 Introduction:

In a world where the pursuit of wellness and relaxation is often equated with luxury, the United Arab Emirates (UAE) elite have found their sanctuary in Thailand's elite and luxurious wellness retreats. Thailand, renowned for its stunning natural landscapes, rich wellness traditions, and world-class hospitality, has become the ultimate destination for those seeking a royal escape from the hustle and bustle of their elite lifestyles. In this article, we explore why the UAE's elite are choosing Thailand's luxury wellness retreats and delve into the unique aspects that make these retreats a haven for the world's most discerning travellers.
Book free consulting session with HealthTrip expert
The Quest for Wellness Among the UAE Elite:
The UAE is home to a thriving elite community that often grapples with the pressures of demanding careers, high social expectations, and a fast-paced lifestyle. As a result, the quest for wellness and relaxation holds particular significance for the UAE elite:
1. Stress Management: The demanding nature of elite professions often leads to high levels of stress. Wellness retreats offer a respite from these pressures, allowing individuals to unwind and rejuvenate.
2. Work-Life Balance: Achieving a balance between work and personal life can be challenging for the UAE elite. Wellness retreats provide an opportunity to disconnect, reflect, and prioritise well-being.
3. Physical and Mental Health: Prioritising physical and mental health is a growing trend among the elite. Luxury wellness retreats offer holistic programs that address both physical fitness and mental well-being.
4. Exclusive Experiences: The UAE elite seek experiences that are tailored to their tastes and preferences. Luxury wellness retreats in Thailand offer bespoke programs and personalised services.
Why the UAE Elite Choose Thailand for Luxury Wellness Retreats:
1. Natural Beauty: Thailand's picturesque landscapes, from tropical islands to lush forests and serene beaches, provide a stunning backdrop for luxury wellness retreats. The serene environment fosters relaxation and tranquillity.
2. Wellness Traditions: Thailand has a rich heritage of wellness practices, including Thai massage, meditation, yoga, and traditional herbal therapies. These traditions are incorporated into luxury retreat programs, providing a holistic wellness experience.
3. World-Class Hospitality: Thai hospitality is renowned for its warmth and attentiveness. Luxury wellness retreats in Thailand offer personalised services that cater to the unique needs and desires of the UAE elite.
4. Privacy and Exclusivity: Many luxury wellness retreats in Thailand prioritise privacy and exclusivity, offering secluded villas, private beaches, and discrete services that align with the expectations of the UAE elite.
5. Cutting-Edge Wellness: Thailand's luxury wellness retreats often incorporate cutting-edge wellness practices and technologies, ensuring that guests have access to the latest advancements in the field.
Unique Aspects of Luxury Wellness Retreats in Thailand:
1. Bespoke Wellness Programs: Luxury wellness retreats in Thailand create personalised programs for their elite guests, taking into consideration individual wellness goals, dietary preferences, and desired experiences.
2. Holistic Well-Being: These retreats adopt a holistic approach to well-being, addressing physical, mental, and emotional health. Guests can participate in yoga and meditation sessions, receive spa treatments, and benefit from expert guidance on nutrition and fitness.
3. Culinary Excellence: Thailand's luxury wellness retreats often feature world-class cuisine that combines gourmet flavours with healthy ingredients. Guests can savour exquisite meals that nourish both the body and the palate.
4. Wellness Technology: Some retreats incorporate innovative wellness technologies, such as state-of-the-art fitness equipment, wellness apps, and wearable devices that enhance the wellness experience.
Success Stories from the UAE Elite:
The success stories of UAE elite who have experienced luxury wellness retreats in Thailand highlight the transformative power of these escapes:
1. Stress Reduction: Many UAE elite guests share stories of significant stress reduction and improved mental well-being after their retreats. They describe feeling more relaxed, focused, and emotionally balanced.
2. Physical Transformation: Luxury wellness retreats often focus on fitness and physical health. Guests speak of improved physical fitness, weight management, and enhanced vitality after their retreats.
3. Reconnection with Nature: UAE elite guests appreciate the opportunity to reconnect with nature during their retreats in Thailand. They share how the serene environment and outdoor activities contribute to their overall sense of well-being.
4. Enhanced Mindfulness: Retreats often offer mindfulness and meditation practices. Guests describe how these practices have improved their ability to stay present, manage stress, and cultivate inner peace.
Conclusion:
Luxury wellness retreats in Thailand offer the UAE elite a royal escape from the demands of their elite lifestyles. These retreats provide a unique blend of natural beauty, wellness traditions, world-class hospitality, and cutting-edge wellness practices that cater to the discerning tastes and preferences of the elite. The success stories of UAE elite who have found rejuvenation, transformation, and wellness in Thailand's luxury wellness retreats affirm the profound impact of these escapes on physical, mental, and emotional well-being. Thailand stands as a sanctuary for the UAE elite, offering a pathway to relaxation, renewal, and a healthier, more balanced life.
Read also: Medical Treatment Options for Middle Eastern Travelers in Thailand