Top Dermatologists for Laser Hair Removal in India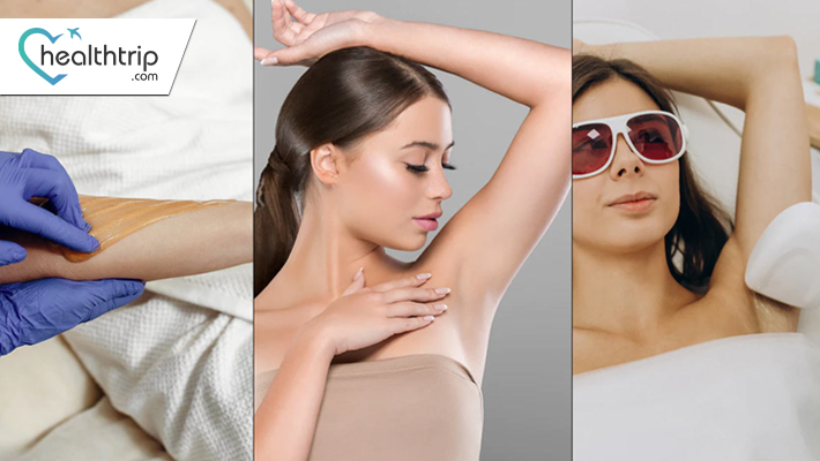 Book free consulting session with HealthTrip expert
The pursuit of smooth, hair-free skin has led many individuals to explore the wonders of laser hair removal, a revolutionary cosmetic procedure that offers a long-term solution to unwanted hair. In India, a growing number of people are turning to skilled dermatologists who specialize in laser hair removal. These professionals harness advanced technologies and their expertise to provide safe and effective treatments. From addressing concerns about facial hair to achieving silky-smooth legs, the best dermatologists for laser hair removal in India bring a blend of precision, experience, and state-of-the-art equipment to redefine the landscape of cosmetic dermatology.
Laser hair removal

Laser hair removal is commonly used to treat areas like the face, legs, arms, underarms, and other body areas. It offers a long-term reduction in hair growth, and many individuals experience a significant reduction in hair after a series of sessions. It's important to note that results can vary, and maintenance sessions may be needed over time. Consulting with a qualified dermatologist or licensed practitioner is crucial to ensuring the procedure is safe and suitable for your specific needs.

Consultant - Dermatologist & Cosmetic Dermatologist/fellow Pediatric Dermatology
Consults at: Fortis Hospital, Mulund
Dr. Smriti Naswa Singh is a Consultant Dermatologist and Cosmetic Dermatologist at Fortis Hospital Mulund.
She achieved a gold medal in M.D. (Skin- VD) from Govt. Medical College, Vadodara, Gujarat.
Dr. Smriti completed her Senior Residency at Sanjay Gandhi Memorial Hospital, Govt. of Delhi.
She pursued her Fellowship in Pediatric Dermatology from CMC Vellore by IADVL (Indian Association of Dermatologists).
Dr. Smriti has a keen interest in Lifestyle medicine and focuses on treating the root cause of skin diseases, considering skin as the mirror of internal body and mind.
Her expertise extends to skin and hair conditions of infants, children, and teenagers, with a special focus on allergies, hair fall/hair loss problems, and lifestyle-related skin issues in this younger generation.
Treatments:
Laser Resurfacing
Acne / Pimples Treatment
Scar Treatment
Wart Removal
Laser Hair Removal - Face
Hair Loss Treatment
Facial Rejuvenation Treatment
Pityriasis Rosea
Thighplasty (Thigh Lift)
Skin Disease Treatment
Hair Replacement
Acne/ Pimple Scars Treatment
Nail Surgery
Skin Biopsy


Senior Consultant - Dermatologist
Consults at: Jaypee Hospital
She has completed her MBBS from a reputed medical college, followed by MD in Dermatology, Venereology, and Leprosy from a prestigious institute.
Dr. Shrivastava has a keen interest in cosmetic dermatology and has undergone specialized training in various procedures such as laser therapy, chemical peels, and microdermabrasion.
She provides comprehensive care for a wide range of dermatological conditions, including acne, eczema, psoriasis, hair loss, skin infections, and skin cancer.
Dr. Shrivastava also offers specialized treatments for common cosmetic concerns such as fine lines, wrinkles, uneven skin tone, and pigmentation issues.
Areas of Interest
cosmetic dermatology
anti-aging treatments
scar management
and laser therapy.


Consultant- Dermatologist
Consults at: Apollo Hospitals - Greams Road - Chennai
Dr. Shraddha M is a Dermatologist working at Apollo Hospitals Greams Road, Chennai.
She has 14 years of experience in her field.
She has done her MBBS from Sri Ramachandra Institute of Higher Education and Research, Chennai (2003), MD (Dermatology , Venereology and Leprosy) from Sri Ramachandra University, Chennai (2006) and DNB (Dermatology and Venereology) from National Board of Examination (2012).
Some of the services she provides are Hyper Pigmentation Treatment, PRP Hair Transplantation, Hair Loss Treatment, Anti Aging Treatment, Acne Treatment and Derma-roller.
She is a member of the Indian Association of Dermatologists, Venereologists and Leprologists and Women's Dermatologic Society.


Consultant- Dermatology
Consults at: C K BIRLA DELHI
Dr Sumit Gupta is a prolific, dynamic and passionate dermatologist with more than 12 years of experience.
His zeal for scientific advancements & innovations have lead him to be a faculty at many national and international fora.
Among the many highlights of his stellar career, he was awarded with a gold medal for his remarkable research on Melanocyte Transplantation in vitiligo by University of Delhi. The same work was acknowledged with the WCD-star award at the World Congress of Dermatology, Vancouver 2015.
Dr Gupta's focus is to apply his immaculate training, latest technologies and scientific evidence in accordance with patients' needs for the best possible results.
Areas of Interest:
Clinical dermatology (acne, psoriasis, eczemas, allergies, etc.)
Pigmentary dermatosis
Vitiligo
Pediatric dermatology
Pregnancy related skin diseases
Laser hair reduction
Laser skin resurfacing and scar treatment
Chemical peels
Anti-ageing skin treatment
Platelet rich plasma (PRP) therapy
Conclusion:
In the vibrant realm of cosmetic dermatology, where confidence meets innovation, the best dermatologists for laser hair removal in India have emerged as sculptors of beauty and comfort. Their commitment to leveraging cutting-edge technology, coupled with a deep understanding of diverse skin types, has redefined the standards for achieving hair-free skin. As individuals across the country seek personalized solutions, these dermatologists stand at the forefront, offering not just treatments but transformative experiences. In the pursuit of radiant and smooth skin, the expertise of these professionals shines brightly, illuminating a path towards confidence, self-expression, and a newfound sense of beauty.