Top 5 Skin Specialists in India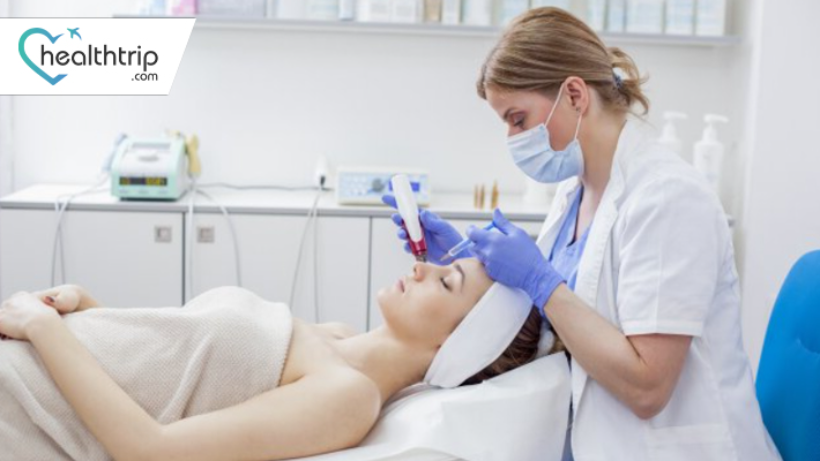 Introduction:
Your skin is not just the largest organ of your body; it's also a reflection of your overall health and well-being. Skin issues can range from minor irritations to more serious conditions that require expert care. Fortunately, India boasts a wealth of talented dermatologists and skin specialists who can help you achieve and maintain healthy, glowing skin. In this blog, we'll introduce you to the top 5 skin specialists in India who have earned recognition for their expertise and commitment to dermatology.
Book free consulting session with HealthTrip expert


Consults at: Jaypee Hospital
Dr. Sakshi Shrivastava is a highly skilled dermatologist at Jaypee Hospital with extensive experience in diagnosing and treating skin, hair, and nail conditions.
She holds an MBBS degree from a prestigious medical college and an MD in Dermatology, Venereology, and Leprosy from a renowned institute.
Dr. Shrivastava specializes in cosmetic dermatology, including laser therapy, chemical peels, and microdermabrasion.
She offers comprehensive care for various dermatological issues like acne, eczema, psoriasis, hair loss, infections, and skin cancer.
Patients can receive personalized treatment plans through her patient-centered approach.
Dr. Shrivastava stays updated with the latest dermatological advancements by attending conferences and workshops.
She is dedicated to providing the highest quality and most advanced treatments to her patients.
Consults at: Fortis Vasant Kunj
Dr. Taneja possesses extensive experience in Plastic and Cosmetic surgeries.
She is well-trained in various facets of Plastic and Reconstructive surgeries.
Her expertise extends to Craniomaxillofacial surgeries.
Dr. Taneja holds certifications from the American Board of General Surgery and the American Board of Plastic Surgery.
She boasts a substantial portfolio of publications and research papers, showcasing her commitment to advancing the field.
Consults at : Fortis Malar Hospital
Dr. Amudha boasts an impressive 25 years of experience in her field.
She practices at Fortis Malar Hospital in Adyar, Chennai.
Her educational background includes an MBBS from Kilpauk Medical College in 1995 and a Diploma in Dermatology from Stanley Medical College & Hospital in 1998.
Dr. Amudha is affiliated with prestigious organizations like the Indian Medical Association (IMA), Association of Cosmetic Surgeons of India (ACSI), and Indian Society of Tele dermatology (INSTED).
She holds key positions as an Executive Member of SOLID and an Organizing Committee Member of Cuticon.
Dr. Amudha offers a wide range of services, including Dermatitis Treatment, Scleroderma Treatment, Onychocryptosis, Baldness Treatment, and Instant Brow Lift, among others.
Dr. Manjul Aggarwal boasts 29+ years of medical expertise.
Holds an M.D. in dermatology with a prestigious gold medal from Maulana Azad Medical College, New Delhi.
Distinguished academic mentor, guest speaker, chairperson, and panelist in dermatology, cosmetology, and hair restoration.
Specializes in hair restoration, pioneering Synthetic Hair Implantation in South Asia.
National dermatology icon featured in D D National, Femina, Cosmopolitan Magazine, Hindustan Times.
Invited as a guest panelist and interviewed on skincare protocols.
Dr. Aggarwal is a recognized authority in the field.
Consults at: Indraprastha Apollo Hospital
Dr. R K Joshi, a renowned dermatologist in Greater Kailash I, New Delhi, with 46 years of experience.
Holds degrees in dermatology, venereology, and leprosy (MBBS, MD).
Practices at the Advanced Skin Centre and is a member of ISHR.
Fluent in Hindi and English, providing top-notch medical services like wart removal, hyperpigmentation treatment, chemical peels, and more.
34 years of dermatology experience, including roles in the UK and Saudi Arabia.
Multiple international qualifications, including MD, DVD, DTMH, and FAMS.
Active memberships in professional organizations like ADV&L, ISHRS, and the British Association of Dermatology.
Specializes in Vitiligo treatment, hair management, and allergy management, including immunotherapy and Dermato-cosmetology.


How to Choose the Right Skin Specialist:
Selecting the right skin specialist is a crucial decision for your skincare journey. Here are some tips to help you make an informed choice:
Research: Start by researching different dermatologists in your area or the area you are willing to travel to. Read their profiles, check their qualifications, and look for patient reviews and testimonials.
Specialization: Consider your specific skincare needs. Some dermatologists specialize in acne treatment, while others excel in anti-aging procedures or laser treatments. Choose a specialist who aligns with your concerns.
Credentials: Ensure that the dermatologist is board-certified and has the necessary qualifications and experience in their area of expertise
Technology and Equipment: Modern dermatology often relies on advanced technology and equipment. Inquire about the technologies and treatments available at the clinic.
Consultation: Schedule a consultation with your chosen dermatologist. This initial meeting will allow you to discuss your concerns, assess their approach, and determine if you feel comfortable with them.
Cost and Insurance: Understand the cost of treatments and whether your insurance covers dermatological procedures. Clarify payment options and any potential hidden fees.
Location and Accessibility: Consider the location of the clinic and its accessibility. Frequent visits are often required for skincare treatments, so choose a convenient location if possible.
Patient Experience: Ask for before-and-after photos of previous patients to gauge the dermatologist's skill and the potential results of treatments.
Personal Connection: Building a rapport with your dermatologist is essential. You should feel comfortable discussing your concerns and asking questions during appointments.
Follow-up Care: Inquire about post-treatment care and follow-up appointments. Understanding the maintenance required for your skincare regimen is vital.
Remember that skincare is a collaborative effort. It's crucial to follow your dermatologist's advice and adhere to the recommended skincare routines and treatments for the best results.
In conclusion, India is home to some of the most accomplished and respected skin specialists globally. These experts have consistently demonstrated their commitment to providing high-quality skincare solutions. By selecting the right dermatologist who aligns with your specific needs, you can embark on a journey to achieve healthy, radiant skin. Whether you're seeking treatments for medical conditions or cosmetic enhancements, the top 5 skin specialists in India are well-equipped to help you attain your skincare goals. Don't hesitate to take the first step toward healthy skin and book a consultation with one of these esteemed professionals. Your skin deserves the best care, and with the right specialist, you can look forward to a brighter, more confident future.
Read also: The Latest Advances in Dermatology: What You Need to Know