The Top 10 Prosthodontists in India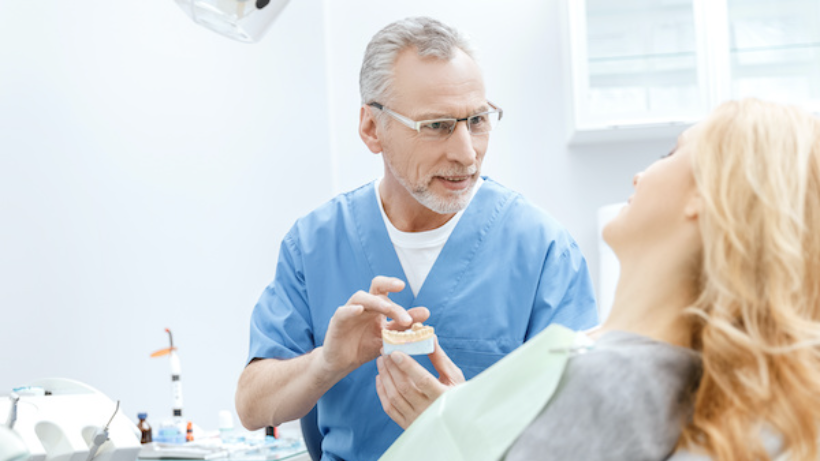 Introduction
In a world that places a premium on the aesthetics of a smile, prosthodontists emerge as unsung heroes, crafting beautiful and functional dental restorations that transform lives. These specialists play a pivotal role in rebuilding confidence and enhancing oral health. India, with its rich pool of medical talent, houses some of the most skilled and distinguished prosthodontists in the world. In this article, we journey through the realm of dental excellence to bring you the Top 10 Prosthodontists in India, whose remarkable skills and dedication have earned them a place in this exclusive list.
Book free consulting session with HealthTrip expert
1. Dr. Sanket Chakraverty

Dr. Sanket Chakraverty had a B.D.S. He got his PhD from Meenakshi Ammal Dental College in Chennai in 2008.
He completed his PhD in Maxillofacial Prosthetics and Implantology at Sree Balaji Dental College, Chennai in 2012, placing second.
He currently practices in Kolkata and works as a prosthodontist in many hospitals in and around Kolkata.
He also visits Ranchi (Jharkhand) and Shillong (Meghalaya) as a consultant.
He is actively involved with his Anandlok Charitable Trust and in the past he ran a dental camp with the Charitable Trust.
He published and received scientific papers and posters.
He is also interested in research and is actively involved in new technologies and products.
Read more: Choosing the Right Dental Implant: Expert Advice
2. Dr. Rasha Abdelhamid
Dr. Rasha Abdelhamid has over 16 years of experience working in prestigious hospitals in Egypt and the United Arab Emirates.
She has a strong desire to advance her skill set by actively engaging in conferences and workshops in the field of prosthodontic research.
Expertise:
Mouth rehabilitation
Smile design
Fillings
Inlays
Onlays
Fixed restorations
3. Dr. Prriya Porwal
Specialist in Pedodontics Dr. Prriya Porwal practices at Tajmeel Kidspark Medical Center in Al Shahama.
For more than 5 years, Dr. Prriya had successfully provided children with restorative and preventive dental care at prestigious healthcare facilities in India.
Dr. Prriya Porwal earned her Bachelor of Dental Surgery (B.D.S.) in 2011 and her Master of Science in Pediatric and Preventive Dentistry from prestigious Indian universities in 2015.
She received her education in an evidence-based system, allowing her to have a trustworthy methodology while offering therapies.
She is skilled at dealing with difficult paediatric children thanks to her upbeat and amiable personality.
She has experience with complex situations, including those involving attention deficit hyperactive children, developmental disorders, and infants with cleft lip and palate (presurgical NasoAlveolar Moulding).
She pursued clinical hypnotherapy training because of her intense interest in psychology and non-pharmacological behavior management of children.
The dental journey for parents and kids is made easy by Dr. Prriya Porwal's accumulated skills and knowledge. She has numerous papers in peer-reviewed journals to her credit.
Expertise:
Cleaning and fluoride treatments
Comprehensive Oral treatments
Nitrous oxide sedation
Dental extractions
Care for dental injuries
Management of gum diseases
Pediatric Aesthetic fillings
Filling the tooth cavities
Pit and Fissure sealants
Root Canal treatment
4. Dr. Shereefa Abdul Rahiman
Dr. Shereefa Abdul Rahiman specializes in paediatrics.
Children's dental care for restorative and preventive purposes was expertly provided by Dr. Shereefa.
She has experience with difficult paediatric aesthetic dentistry cases.
She has experience managing complex cases, including managing children's dental trauma, providing complete oral rehabilitation, and caring for disabled (handicapped) patients.
Expertise:
Endodontic treatment
Oral rehabilitation
Minimally invasive dentistry
Caries prevention
Traumatic injuries
5. Dr. Prem Nanda
Dr. Prem Nanda is one of the most renowned and sought-after orthodontists and implantologists, with experience spanning over 40 years.
He has treated patients from all over the world during the course of his career. Additionally, he has trained over 3000 dentists through his specialty course, which he offers four times a year.
More than 15,000 successful implants attest to his abilities and knowledge in the industry.
40 years ago, Dr. Prem began his practice after earning a gold medal at Bombay University.
Later, he was awarded the Diplomate designation by the International Congress of Oral Implantology (USA).
He is qualified to perform a variety of operations at Emirates Hospital Jumeirah and holds a specialist orthodontic and implantologist licence in Dubai.
Clinical Specialization:
Orthodontics for prevention and intervention
Braces, both visible and standard
Impacted wisdom teeth surgical removal
Same-Day Teeth with Dental Implants
Sinus lift and bone grafting
A minimally invasive and graft-free technique for replacing lost teeth right away.
6. Dr. Gagan Sabharwal
Dr. Gagan Sabharwal is a Consultant Maxillofacial and Cleft surgeon in the Department of Dental Sciences.
He did is post graduation in Maxillofacial Surgery from Rajiv Gandhi University, Karnataka in 2008, followed by One year fellowship in cleft lip and palate from German cleft children's aid society (DCKH) Center in India.
Dr. Sabharwal did his Head and Neck Cancer training from Tata Memorial hospital, Mumbai and Regional Cancer center, Trivandrum. Advance training in oral implantology for Alfa Bio Tec Israel.
An internationally credentialed Oral and Maxillofacial surgeon with Operation Smile Inc.
He is a surgical volunteer for Alliance for Smile and Rotaplast International, charitable organizations, both based out of the United States.
He travels extensively to provide free reconstructive surgeries to underprivileged children around the world.
He is also an American Heart Association BLS and ACLS certified healthcare professional. He was instrumental in setting up comprehensive cleft care center at FMRI in 2015.
His area of interest:
Corrective jaw surgery (orthognathic surgery), T.M. Joint disorders & surgery, treatment of Cleft lip and palate, maxillofacial distraction osteogenesis, facial trauma and dental implants.
Work Experience:
Consultant maxillofacial surgeon 2008 till date – Fortis Flt. Lt. Rajan Dhall Hospital, New Delhi.
Consultant maxillofacial surgeon June 2013 till date –FMRI, Gurgaon, he has been Instrumental in setting up the comprehensive cleft care center at FMRI in February 2015)
Consultant surgeon Fortis Noida – October 2008 till June 2010. (Dental surgery Unit)
Director Dental surgery – Umkal Hospital, Gurgaon September 2012 to November 2013.
Professional Memberships:
Life member
Association of Oral & Maxillofacial Surgeons of India
Indian Society of Cleft Lip Palate & Craniofacial Anomalies
International Cleft lip & Palate Foundation
Indian Society of Oral Implantologist
Academy of oral Implantology
7. Dr. Vivek Soni
Dr. Vivek Soni is a Consultant Dental Sciences and Oral and maxillofacial Surgery specialist at Fortis Hospital Mulund.
He has 38 years of experience in the field of Dentistry and Orthodontics.
Dr. Soni completed his BDS from the University of Bombay in 1985 and his MDS in Orthodontics from the same university in 1990.
He is a member of prestigious organizations such as the Indian Orthodontic Society, the Association of Maxillofacial Surgeons of India, Indian Society of Implantology, and Indian Association of Occupational Health.
Dr. Soni is currently working as a Consultant in the Department of Dentistry at Global Hospitals, Mumbai.
He is also a Professor, Post-graduate Guide, and Head of Department at the University of Mumbai.
From July 2006 to May 2014, Dr. Soni served as the Dean of the University of Mumbai.
His areas of expertise include orthodontic treatment, tooth extraction, tooth decay, gum swelling, maxillofacial surgery, artificial teeth implants, and pyorrhea.
Dr. Soni was awarded the prestigious BEL-IND award in 1994 for Best Paper Presentation at the National Conference of Occupational Health.
He has also received Best Paper Awards at the Annual Conferences of the International College of Surgeons held in Delhi in 1995 and Kanyakumari in 1996.
He has received alumni Medals in Orthodontia, Oral Surgery, Periodontia, and Pedodontia.
Dr. Soni was a recipient of the V.M. Desai Scholarship in 1985 and the Keki Mistry Gold Medal in the same year.
8. Dr. Divyam Girdhar
Dr. Divyam Girdhar is a highly accomplished Endodontist with over 6 years of experience after completing his MDS.
He earned his BDS degree from Kurukshetra University and his MDS in Conservative Dentistry and Endodontics from B.R Ambedkar University, Agra.
Following his post-graduation, he served as a Senior Resident at India's prestigious Dental college, Post Graduate Institute of Dental Sciences, Rohtak, for 3 years.
Subsequently, he worked as an Assistant Professor at various Dental Colleges in Delhi NCR for another 3 years.
During his tenure at PGIDS, he developed a passion for Micro-Endodontic surgery and Retreatment.
Dr. Girdhar excelled both clinically and academically, contributing to various publications in national and international journals, as well as authoring book chapters.
He expanded his expertise by participating in workshops focused on Aesthetic Dentistry and Smile Design.
Dr. Girdhar has presented numerous papers at National and International Conferences, including events like the National IACDE - IES conference 2014, FDI World Congress 2015, and the 19th Scientific Congress of Asia Pacific Endodontic Confederation.
His specializations and treatments encompass Root Canal Treatment, Microsurgical Endodontics, Retreatment Micro-endodontics, Pulp space Therapy (Single sitting RCTs), Smile Correction (Ceramic Veneers, Crowns, Bleaching), Aesthetic Dentistry, and Rehabilitation of Compromised Teeth.
Read more: Advances in Endodontic Treatments: What Patients Need to Know
9. Dr. Bhushan Jayade
Dr. Bhushan Jayade has been actively involved in teaching for 15 years in various reputed institutions in India.
He was promoted as a Professor in Oral and Maxillofacial Surgery by the Rajiv Gandhi University of Health Sciences, Bangalore and has been actively involved in Postgraduate Training in India.
Dr. Bhushan apart from doing routine minor oral surgery is very well versed and experienced in management of soft and hard tissue oral and maxillofacial trauma including management of complex pan-facial bony injuries, dental implantology, management of benign and malignant pathology, orthognathic surgery and oral laser application.
His area of interest is management of oral malignancy and molecular biology of oral cancer.
Dr. Bhushan has more than 15 international publications in international indexed journals in various fields of maxillofacial surgery.
He also has more than 30 presentations to his credit out of which 6 are in international forums.
He has also has been appointed an MFDS examiner by the Royal College of Surgeons of Ireland.
10. Dr. Arun Sharma
Dr. Arun Sharma is a renowned Oral & Maxillofacial Surgeon based in Central Delhi with over 11 years of medical practice experience.
He is currently associated with BLK Superspecialty Hospital as a consultant.
Dr. Arun Sharma has a diverse professional background and has worked at various esteemed institutions, including Goa Dental College and Hospital, Jaipur Golden Hospital, and PDM Dental College.
He specializes in a wide range of procedures, including Dental Implant Fixing, Orthognathic Surgery, Tooth Extraction, Jaw Reshaping, Trauma Care, and Chin Augmentation (Mentoplasty).
Dr. Arun Sharma obtained his BDS degree from Manipal College of Dental Sciences, Mangalore in 2005.
He pursued his MDS in Oral & Maxillofacial Surgery from KLE Vishwanath Katti Institute of Dental Sciences, Belgaum in 2009.
In addition to his professional engagements, Dr. Arun Sharma is an active member of prestigious institutions such as AOCMF and the Association of Oral and Maxillofacial Surgeons of India (AOMSI).
He offers various services to his patients, including Dental Implant Fixing, Orthognathic Surgery, and Tooth Extraction.
The Future: A Continuation of Excellence
As these top 10 prosthodontists continue to pave the way for innovation and transformation, the future of Indian prosthodontics looks exceptionally bright. Their dedication to artistry, empathy, technology, and education exemplifies the qualities that set prosthodontists apart as leaders in oral health care.
Through their stories, we are reminded that dentistry is not just a science—it is a blend of creativity, compassion, and skill that enhances lives one smile at a time. With these exceptional individuals at the helm, the field of prosthodontics in India is poised to reach new heights, inspiring generations to come.
Conclusion
The journey through the lives and accomplishments of these exceptional prosthodontists underscores the importance of their contributions to the realm of dental care. With a blend of artistry, innovation, and compassion, these individuals have redefined smiles, restored confidence, and transformed lives. As the field of prosthodontics continues to evolve, it is luminaries like these who pave the way for a future where dental health meets aesthetic excellence.
In the colorful tapestry of Indian prosthodontics, these top 10 prosthodontists stand as shining stars, guiding both their peers and patients toward a brighter, more confident tomorrow. With their commitment to excellence and their unyielding pursuit of mastery, these professionals not only elevate the field but also inspire all those who dream of a healthier, more beautiful smile.