By Hospals Team
Blog Published on - 04 April - 2022
Patient's FAQ on Hair Transplant Transformation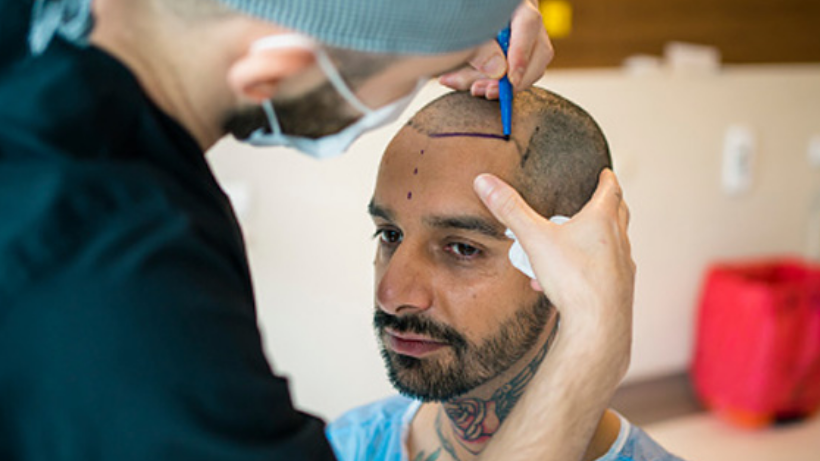 Overview
When you think of "hair transplants," you may think of images with patchy, visible hair plugs on scalp from the past. However, you do not need to worry about that now. In the last decade, hair transplants have come a long way. If you are thinking about the same, you are on the right page. Continue reading to get the answers to your queries such as what a hair transplant transformation looks like, hair transplant cost, and many more.
Book free consulting session with HealthTrip expert
What does hair transplant transformation mean?
Hair transplant is a surgical procedure i.e used to restore hair growth to places of the scalp where it has been reduced or stopped. They are effective therapies for a variety of hair loss conditions, but they do not prevent further hair loss.
How long does the hair transplant last?
It takes time for your skin to heal after hair follicles are grafted into regions where your hair is thinning. For the first three months after the treatment, it's typical for part of your hair to come out.
Healing will take place anywhere from six to twelve months. Following that, hair from the transplanted follicles will begin to grow and fill in the bald regions on your scalp. With time, your hair will continue to grow naturally.
How can I get my hair transplant transformation done?
In India, you can choose from a variety of hair transplant alternatives based on your scalp type, hair texture, and skin type over the bald spot. However, you can take an informed decision with your doctor and clear your doubts if you have any before the procedure.
The most common procedures are Follicular Unit Transplant (FUT) and Follicular Unit Extraction (FUE). Dense Hair Implantation (DHT) and Quick Hair Treatment are two other options (QHT).
Follicular Unit Transplant- In this surgery, your surgeon will cut a piece of skin from the nape of your head to remove the hair follicles.
- The follicles will then be placed one by one over the skin of the bald area of your head. -This is a great alternative if your hairline is receding and your forehead is becoming wider.
Follicular Unit Extraction- your surgeon will extract individual hair follicles from the scalp during this surgery.
- The surgery will be carried out under local anesthetic, which may cause the operative area to become numb during the procedure. So that, you won't feel any pain during the hair transplant procedure.
-Your doctor can perform the treatment even if the patient's hair volume is minimal.
-After the transplant, you will have less pain and no scar.
Is the hair transplant transformation good for thinning hair?
As per the hair transplant specialist, a hair transplant can bring an overall transformation in your appearance and confidence level as well.
However, it may not be a permanent solution to thinning hair or for your baldness.
Is it possible that you need to go through the procedure another time?
It's likely that your initial hair transplant won't be your final one.
Some patients will be told by their doctors that they would require many "sessions" of transplant surgery to get the desired results.
After their first hair transplant has healed, other candidates get satisfied with the outcomes. Later they can undergo the same procedure if it is necessary.
How much does a hair transplant cost in India?
The hair transplant cost in India can vary greatly depending on the criteria listed below. For you, our experts will suggest the most cost-effective transplant package.
The bald area of your head
The total number of grafts that will need to be implanted.
The total number of sessions required to finish the transplantation procedure.
The skin type of the patient's scalp
The texture and density of the hair were assessed during the sessions.
The quantity and direction of hair loss
Expertise and experience of your specialist
Depending on the location of the doctor's clinic
Whether the scalp area is smooth or elevated
The cost of a hair transplant in India ranges from Rs.20 to Rs.35 per graft, excluding tax. One to three hair follicles are transplanted per transplant. You may calculate the total cost based on the number of grafts required for the patient.
A hair transplant is a once-in-a-lifetime investment that restores patients' confidence while also restoring their hair.
Why should you consider getting hair transplant surgery in India?
India is the most favored place for cosmetic plastic surgery for three major reasons.
India's cutting-edge technology,
medical skills,
Board-certified and experienced hair transplant surgery doctors in India, a few of them are also nominated with 'center of excellence' awards.
India's hospitable environment,
Hair transplant prices in India are lesser than similar surgery costs in other countries, which ensures the quality of cosmetic surgery in India is at par with the other countries around the globe.
How can we help you with the treatment?
If you need to undergo cosmetic plastic surgery in India, we act as your guide throughout your treatment journey and will be present physically with you even before your treatment is started. We will provide you with the following:
Expert physicians and surgeon's opinions
Transparent communication
Coordinated care
Prior appointment with specialists
Assistance in hospital formalities
24*7 availability
Arrangement for travel
Assistance for accommodation and healthy recovery
Assistance in emergencies
We are committed to providing the best health care services to our patients. We have a team of trained and highly dedicated health experts who will be there by your side right from the beginning of your journey.
Conclusion- In India, we have world-class hospitals that offer the most advanced cosmetic treatment options that exceed international standards. So, if you're thinking of taking a trip for hair transplant transformation in India, you can count on us. Our effectiveness as a center of excellence for hair transplant transformation in India has been demonstrated by our treatment outcomes and patient satisfaction.