Pancreatitis: Causes, symptoms, treatment & more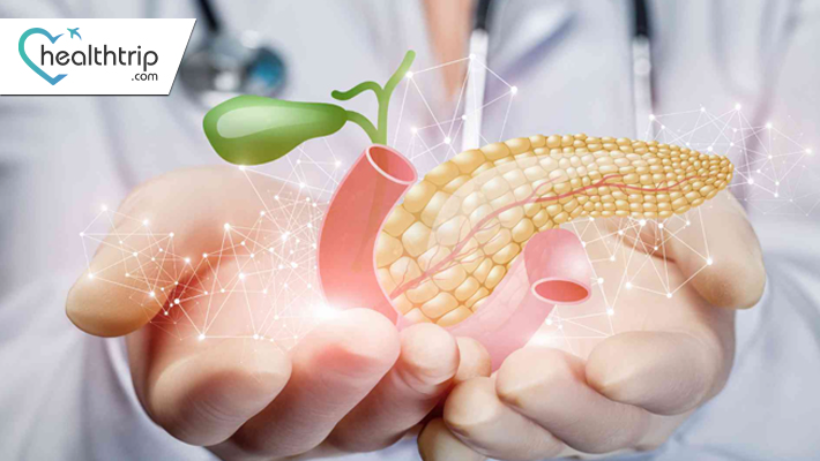 We're here to discuss a medical condition known as pancreatitis.

Pancreatitis
Book free consulting session with HealthTrip expert
Pancreatitis is an inflammation of the pancreas, a vital organ that sits behind your stomach. The pancreas has two main roles in our body: it produces enzymes that help in digestion, and it produces hormones, including insulin, which regulate the way your body processes sugar.

Types of pancreatitis
There are two primary forms of this condition: acute pancreatitis and chronic pancreatitis.
1. Acute Pancreatitis
This form of pancreatitis occurs suddenly and typically resolves in a few days with proper treatment. It can range from mild discomfort to a severe, life-threatening illness. Most people with acute pancreatitis recover completely after receiving the appropriate treatment.

2. Chronic Pancreatitis
This form of pancreatitis is long-standing inflammation of the pancreas. It occurs when the organ becomes permanently damaged from inflammation over time. This damage can lead to a decrease in the production of digestive enzymes and hormones, leading to difficulties in digestion and controlling blood sugar.
While both types involve inflammation of the pancreas, they differ in their onset, severity, potential complications, and management strategies. It's crucial to understand these differences to effectively treat and manage these conditions.
Causes of pancreatitis
Pancreatitis can be caused by a variety of factors. Some of the most common include:
Gallstones: These are hard particles that develop in the gallbladder. They can block the pancreatic duct, which can cause inflammation of the pancreas.
Alcohol consumption: Heavy or prolonged use of alcohol can cause inflammation in the pancreas.
Genetic factors: Certain genetic mutations can make individuals more susceptible to pancreatitis.
Other less common causes: These can include certain medications, high levels of calcium or fats in the blood, infections, trauma to the abdomen, and certain surgical procedures.
Symptoms of pancreatitis
The symptoms of pancreatitis can vary depending on whether the condition is acute or chronic. Common symptoms include:
Severe upper abdominal pain that may radiate to the back
Nausea and vomiting
Fever
Rapid pulse
Weight loss (more common in chronic pancreatitis)
Oily, smelly stools (steatorrhea)
It's important to seek medical help if you experience severe abdominal pain, persistent nausea and vomiting, or any other concerning symptoms. Early diagnosis and treatment can help prevent complications and improve outcomes.
Diagnosis of pancreatitis
Diagnosing pancreatitis involves several steps:
Medical history and physical examination: Your doctor will ask about your symptoms and medical history, including alcohol use, gallstones, and family history of pancreatitis. They will also perform a physical examination to assess your pain and check for signs of jaundice.
Blood tests: These can help your doctor detect elevated levels of pancreatic enzymes, which is a sign of pancreatitis.
Imaging tests: These may include a CT scan, MRI, or ultrasound. These tests can help your doctor visualize your pancreas and check for inflammation or other abnormalities.
Endoscopic tests: In some cases, an endoscopic ultrasound or ERCP (endoscopic retrograde cholangiopancreatography) may be used. These tests allow your doctor to look at your pancreas and bile ducts and can also be used to collect tissue samples.
These tests together can help your doctor diagnose pancreatitis and determine its cause, which is crucial for effective treatment.
Treatment of pancreatitis
The treatment for pancreatitis often depends on the severity and type of the condition, but generally includes the following:
1. Hospitalization and initial treatments: Acute pancreatitis often requires hospitalization. Initial treatment usually involves fasting to rest the pancreas, intravenous fluids to prevent dehydration, and pain medications.
2. Medications: Pain relievers can help manage the discomfort associated with pancreatitis. If your pancreatitis is due to a lack of digestive enzymes, your doctor may prescribe pancreatic enzyme supplements. If diabetes results from chronic pancreatitis, insulin may be necessary.
3. Procedures and surgeries: If gallstones caused your pancreatitis, you might need a procedure to remove the stones or even the gallbladder. In severe cases of chronic pancreatitis, surgery to remove part of the pancreas may be an option.
4. Home management and lifestyle changes: These are crucial for managing pancreatitis and preventing future attacks:
Pain management: Over-the-counter pain medications can help, but always consult with a healthcare provider for appropriate use.
Hydration: Drink plenty of fluids, especially water, to stay hydrated and support overall health.
Nutrition: A low-fat, high-protein, high-fiber diet can help manage symptoms and promote recovery. Avoid large meals and opt for smaller, more frequent meals throughout the day.
Rest: Rest is essential, especially during an acute attack, to allow your pancreas to recover.
Avoid alcohol: Alcohol can trigger pancreatitis attacks and worsen the condition, so it's best to avoid it.
No smoking: Smoking can increase the risk of pancreatitis and cause further damage to the pancreas.
Regular exercise: Regular physical activity can help manage body weight and overall health, reducing the risk of gallstones and improving digestion.
Remember, while these home management strategies can help manage symptoms and promote recovery, pancreatitis is a serious condition that requires medical attention. These strategies should be used in conjunction with, not as a replacement for, professional medical care. Always consult with a healthcare provider for personalized advice.
Complications and risks of pancreatitis
Pancreatitis can lead to several complications if not properly managed:
1. Acute Pancreatitis Complications: These can include pseudocysts (fluid-filled sacs in the pancreas), infection, kidney failure, breathing problems, and even death in severe cases.
2. Chronic Pancreatitis Complications: These can include malnutrition due to poor absorption of nutrients, diabetes due to damage to insulin-producing cells, and pancreatic cancer.
Risk factors for developing pancreatitis include gallstones, heavy alcohol use, certain genetic mutations, smoking, and certain medical conditions like high triglycerides and autoimmune conditions.
Living with pancreatitis
Living with pancreatitis often requires lifestyle changes:
1. Dietary Recommendations: A balanced diet is crucial. Include plenty of fruits, vegetables, whole grains, and lean proteins, and avoid high-fat foods and refined sugars. Stay hydrated and eat small, frequent meals to avoid overworking your pancreas.
2. Exercise and Physical Activity: Regular exercise can help manage your weight, reduce your risk of gallstones, and promote overall health.
3. Regular Medical Check-ups: Regular check-ups can help monitor the progress of the disease and adjust treatment as necessary.
4. Emotional and Psychological Support: Living with a chronic illness can be challenging. Support from loved ones, support groups, or a mental health professional can be beneficial.
Prevention of pancreatitis
Preventing pancreatitis often involves making healthy lifestyle choices:
1. Healthy Lifestyle Choices: This includes maintaining a balanced diet, exercising regularly, limiting alcohol consumption, and avoiding smoking.
2. Regular Medical Screenings: Regular screenings are important, especially for those at risk, to catch any potential issues early.
Remember, while these strategies can help manage and prevent pancreatitis, they should be used in conjunction with professional medical care. Always consult with a healthcare provider for personalized advice.
In conclusion, pancreatitis is a significant health condition that requires prompt diagnosis and comprehensive treatment. It's crucial to remember that lifestyle modifications, such as a balanced diet, regular exercise, and abstaining from alcohol and smoking, play a vital role in managing and preventing this disease. For those living with pancreatitis, there are effective treatments and strategies to manage the condition and maintain a high quality of life. Always seek professional medical advice for any health concerns, as early intervention is key to preventing complications and ensuring the best possible outcome.