Neuroendocrine Tumors: Precision Surgery Unraveled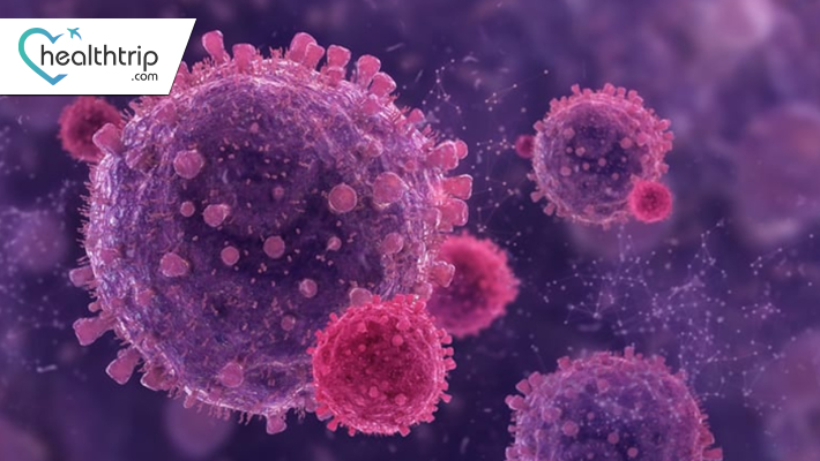 This blog navigates the realms of precision surgery, advanced therapies, and the multidisciplinary tapestry shaping the future of NET treatment.
Book free consulting session with HealthTrip expert
Neuroendocrine cells

Neuroendocrine cells are specialized cells that release hormones in response to nerve signals, bridging the gap between the nervous and endocrine systems.
NETs are categorized based on their origin, such as pancreatic or gastrointestinal, and are graded to assess their aggressiveness
NETs commonly occur in the gastrointestinal tract, pancreas, lungs, and other organs with neuroendocrine cells.
Precision Surgery in Neuroendocrine Tumors
Precision surgery in neuroendocrine tumors involves meticulous procedures guided by advanced technologies to target and remove tumors with high accuracy.
Precision surgery is crucial in NETs to achieve complete tumor removal while preserving surrounding healthy tissue, minimizing complications, and improving overall patient outcomes.
Types of Precision Surgery Techniques
1. Minimally Invasive Approaches:
a. Laparoscopic Surgery: Utilizing small incisions and a camera for visualization.
b. Robotic Surgery: Employing robotic systems for enhanced dexterity and precision.
2. Image-Guided Surgery:
a. Intraoperative Imaging: Real-time imaging during surgery for accurate tumor localization.
b. Navigation Systems: Computer-assisted tools aiding surgeons in precise tumor removal.
Preoperative Assessment
A. Imaging Techniques for NETs
Various imaging modalities, such as CT scans, MRI, and nuclear medicine scans, are employed to visualize and locate NETs before surgery.
B. Biomarkers and Molecular Diagnostics
Identification of specific biomarkers and molecular characteristics helps tailor surgical approaches and predict treatment responses.
C. Multidisciplinary Approach to Treatment Planning
Collaborative efforts among specialists, including surgeons, oncologists, and radiologists, ensure a comprehensive preoperative assessment and a well-informed treatment plan.
Preoperative Assessment
A. Imaging Techniques for NETs
Computed Tomography (CT) Scan:

Provides detailed cross-sectional images, aiding in tumor localization.

Magnetic Resonance Imaging (MRI):

Offers high-resolution imaging for soft tissue assessment.

Nuclear Medicine Scans:

Including Octreotide scans and Ga-DOTATATE PET scans, help identify and assess the extent of neuroendocrine tumors.
B. Biomarkers and Molecular Diagnostics
Chromogranin A and B:

Elevated levels may indicate neuroendocrine tumor activity.

Ki-67 Index:

Indicates tumor proliferation and aids in grading.

Genetic Testing:

Identifies specific mutations for personalized treatment strategies.
C. Multidisciplinary Approach to Treatment Planning
Collaborative involvement of specialists, such as surgeons, oncologists, radiologists, and pathologists, ensures a comprehensive understanding of the patient's condition. This approach facilitates the development of a tailored and effective treatment plan.
Surgical Techniques in Precision Surgery
A. Minimally Invasive Approaches
Laparoscopic Surgery:

Utilizes small incisions and a camera for visualization.
Reduces postoperative pain and accelerates recovery.

Robotic Surgery:

Enhances surgical precision using robotic-assisted tools.
Provides improved dexterity for complex procedures.
B. Image-Guided Surgery
Intraoperative Imaging:

Real-time imaging aids in precise tumor localization during surgery.
Ensures thorough tumor excision while preserving healthy tissue.

Navigation Systems:

Computer-assisted tools guide surgeons in navigating anatomical structures accurately.
Enhances precision in tumor localization and removal.
Postoperative Care and Follow-Up
A. Monitoring Residual Disease
Imaging Studies:

Regular postoperative imaging, such as CT scans or MRI, to monitor for any residual or recurrent tumors.

Biomarker Testing:

Continued assessment of biomarkers, such as Chromogranin A, to detect signs of residual disease or recurrence.

Clinical Evaluation:

Ongoing physical examinations to detect any symptoms or signs of disease recurrence.
B. Adjuvant Therapies
Somatostatin Analogues:

Continued use in certain cases to control hormone secretion and inhibit tumor growth.

Targeted Therapies:

Adjuvant use of targeted therapies based on the specific characteristics of the tumor.

Chemotherapy:

In cases where indicated, postoperative chemotherapy may be considered to reduce the risk of recurrence.
C. Long-Term Surveillance
Regular Follow-Up Visits:

Scheduled follow-up appointments with the healthcare team to monitor the patient's overall health and discuss any concerns.

Imaging and Biomarker Monitoring:

Periodic imaging studies and biomarker assessments to detect any signs of recurrence.

Patient Education:

Continuous patient education regarding signs and symptoms that may indicate disease recurrence or complications.

Psychosocial Support:

Integration of psychosocial support services to address the emotional and psychological aspects of the patient's journey.
Advances in Precision Medicine for NETs
A. Targeted Therapies
Somatostatin Analogues:

Inhibit hormone release and slow tumor growth in certain NETs.

mTOR Inhibitors:

Target cellular pathways to regulate cell growth and division.

Tyrosine Kinase Inhibitors:

Block signaling pathways involved in tumor angiogenesis and growth.

Peptide Receptor Radionuclide Therapy (PRRT):

Delivers targeted radiation to NET cells expressing specific receptors.
B. Immunotherapy
Checkpoint Inhibitors:

Block proteins that prevent immune cells from attacking tumors.
Investigated for their efficacy in certain NETs.

Vaccine Therapies:

Stimulate the immune system to recognize and target NET cells.
Undergoing clinical trials for effectiveness.
C. Personalized Treatment Plans
Genomic Profiling:

Identifies specific mutations and alterations in NETs.
Guides treatment selection based on individual genetic makeup.

Biomarker-Based Approaches:

Tailor treatment strategies based on the expression of specific biomarkers.

Multidisciplinary Tumor Boards:

Collaborative discussions among specialists to customize treatment plans for each patient.
Considers the unique characteristics of the tumor and patient factors.
Watch more: Healthtrip Testimonials

Future Directions and Research
A. Emerging Technologies in Precision Surgery
Augmented Reality (AR):

Integration of AR for enhanced intraoperative visualization and navigation.

Enhanced Robotics:

Continued development of robotic systems with improved capabilities for complex procedures.

Artificial Intelligence (AI):

Implementation of AI algorithms for real-time decision support in precision surgery.

Nano-surgery:

Exploration of nanotechnology for precise manipulation at the molecular level.
B. Evolving Therapeutic Approaches
Combination Therapies:

Investigation of synergistic effects with combined targeted therapies.

Epigenetic Modulation:

Targeting changes in gene expression for therapeutic interventions.

Immunotherapy Optimization:

Refinement of immunotherapeutic approaches for increased efficacy.

Patient-Specific Vaccines:

Development of vaccines tailored to individual tumor profiles.
Summary of Key Points
Precision surgery, guided by advanced technologies, plays a pivotal role in the management of neuroendocrine tumors (NETs).
Comprehensive preoperative assessment, including imaging, biomarkers, and a multidisciplinary approach, is crucial for tailored treatment plans.
Advances in precision medicine, such as targeted therapies and immunotherapy, offer promising avenues for improved NET treatment.
Precision surgery contributes significantly to improved outcomes in NETs by enhancing accuracy, minimizing invasiveness, and facilitating personalized treatment strategies.
Ongoing research into emerging technologies and evolving therapeutic approaches underscores the commitment to advancing the field and improving patient care in the future.