Luxury Stays and Comfortable Days: Top Accommodations in Thailand for Middle Eastern Travelers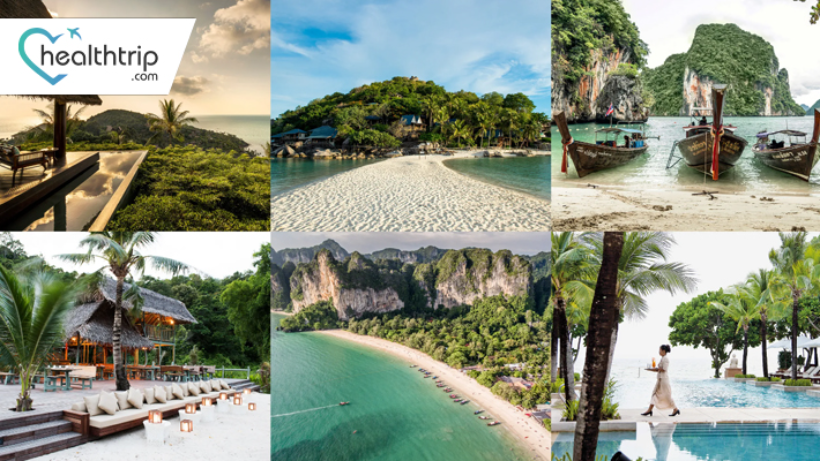 Introduction
Thailand, often referred to as the "Land of Smiles," has become a magnet for Middle Eastern travellers seeking unforgettable experiences in the heart of Southeast Asia. From the bustling streets of Bangkok to the tranquil beaches of Phuket, Thailand offers a diverse range of destinations and accommodations that cater to the discerning tastes of Middle Eastern tourists. In this exploration, we will embark on a journey through the top accommodations in Thailand that provide Middle Eastern travellers with the perfect blend of luxury, comfort, and cultural immersion. Whether you're seeking opulent resorts, urban sanctuaries, or beachfront havens, Thailand has it all.
Book free consulting session with HealthTrip expert
A. The Allure of Thailand
A Destination for Every Traveller
Thailand's appeal lies in its ability to cater to a wide spectrum of travellers. Whether you're an adventure seeker, a wellness enthusiast, a culture connoisseur, or simply in pursuit of relaxation, Thailand has something for everyone. Middle Eastern tourists are drawn to this diversity, allowing them to curate their ideal vacation experience.
Warm Hospitality and Cultural Harmony
The Thai people are renowned for their warm and welcoming hospitality, a trait that resonates with Middle Eastern tourists who place great value on respectful and gracious interactions. Thailand's commitment to cultural harmony and tolerance makes it a safe and welcoming destination for travellers from the Middle East.
B. Bangkok: Where Tradition Meets Urban Luxury
1. The Peninsula Bangkok
Nestled along the banks of the Chao Phraya River, The Peninsula Bangkok is an urban oasis that combines traditional Thai elegance with modern luxury. Middle Eastern travellers are captivated by the hotel's stunning architecture, world-class dining, and impeccable service. The Peninsula offers breathtaking views of the river and the city skyline, providing a serene escape from the bustling streets of Bangkok.
2. Mandarin Oriental, Bangkok
The Mandarin Oriental in Bangkok is an icon of luxury and sophistication. With its rich history dating back to 1876, it has hosted dignitaries, celebrities, and discerning travellers from around the world. Middle Eastern guests appreciate the hotel's opulent design, exceptional dining options, and its renowned spa, which offers a sanctuary of relaxation and rejuvenation.
3. Shangri-La Hotel, Bangkok
Overlooking the Chao Phraya River, the Shangri-La Hotel in Bangkok is a sanctuary of tranquillity in the heart of the city. Middle Eastern visitors find comfort in its spacious and elegantly appointed rooms, as well as its lush gardens and cascading waterfalls. The hotel's multiple dining venues, including a halal-certified restaurant, cater to diverse culinary preferences.
b. Phuket: Tropical Paradise for Beach Lovers
1. Banyan Tree Phuket
For Middle Eastern travellers seeking a beachfront paradise, the Banyan Tree Phuket is an exquisite choice. This luxurious resort offers private pool villas set amidst lush gardens and lagoons. Middle Eastern guests appreciate the resort's privacy, excellent dining options, and award-winning spa, which features traditional Thai therapies.
2. The Nai Harn Phuket
The Nai Harn Phuket is a beachfront gem on the pristine shores of Nai Harn Beach. Middle Eastern tourists are drawn to its stunning ocean views, spacious rooms, and exceptional service. The hotel's rooftop bar, Reflections, offers breathtaking sunset vistas, creating a romantic atmosphere for couples and honeymooners.
c. Chiang Mai: Cultural Immersion in Northern Thailand
1. Four Seasons Resort Chiang Mai
Chiang Mai, in northern Thailand, is renowned for its rich cultural heritage and natural beauty. The Four Seasons Resort Chiang Mai allows Middle Eastern travellers to immerse themselves in this cultural tapestry while enjoying top-tier luxury. The resort's picturesque setting amidst rice paddies and mountains is a haven for relaxation and exploration.
2. Dhara Dhevi Chiang Mai
Dhara Dhevi Chiang Mai transports guests to a bygone era of Lanna Kingdom elegance. Middle Eastern tourists are enchanted by its sprawling grounds, featuring traditional Thai teakwood houses and lush gardens. The resort's diverse dining options, including halal choices, cater to Middle Eastern palates.
d. Koh Samui: Tropical Paradise with Island Charm
1. Six Senses Samui
Koh Samui, an island paradise in the Gulf of Thailand, offers a tranquil escape for Middle Eastern travellers. The Six Senses Samui combines sustainability with luxury, showcasing stunning villas with private infinity pools overlooking the turquoise waters. Middle Eastern visitors appreciate the resort's commitment to environmental responsibility.
2. Conrad Koh Samui
The Conrad Koh Samui is perched on a hillside overlooking the Gulf of Thailand, providing Middle Eastern guests with breathtaking views and privacy. The resort's spacious villas, each with its private pool, create an intimate and serene atmosphere. Dining at the resort's Jahn restaurant, which offers Thai cuisine with a contemporary twist, is a culinary journey to savour.
e. Pattaya: Coastal Retreat with Vibrant Nightlife
1. Royal Cliff Beach Hotel
Pattaya, known for its vibrant nightlife and coastal charm, welcomes Middle Eastern travellers seeking a mix of entertainment and relaxation. The Royal Cliff Beach Hotel offers a range of accommodations, from luxurious suites to family-friendly options. The hotel's multiple pools and diverse dining choices cater to various preferences.
2. InterContinental Pattaya Resort
The InterContinental Pattaya Resort is a tranquil retreat overlooking the Gulf of Thailand. Middle Eastern guests are drawn to its spacious rooms and suites, each with a private balcony or terrace. The resort's restaurants offer a fusion of international and Thai cuisine, accommodating diverse tastes.
f. Krabi: Nature's Marvel with Pristine Beaches
1. Rayavadee Krabi
Krabi, characterised by its stunning limestone cliffs and clear waters, is a nature lover's paradise. Middle Eastern travellers seeking a serene escape appreciate the Rayavadee Krabi's unique location amidst lush gardens and dramatic cliffs. The resort provides Middle Eastern cuisine options, ensuring a comfortable stay.
g. Hua Hin: Seaside Relaxation near Bangkok
1. InterContinental Hua Hin Resort
Hua Hin, located just a few hours' drive from Bangkok, is a charming seaside town. The InterContinental Hua Hin Resort offers Middle Eastern travellers a luxurious beachfront experience. The resort's spacious rooms and villas provide a comfortable retreat, while its dining options cater to various tastes.
h. Cultural Considerations
1. Halal Dining and Prayer Facilities
Many Middle Eastern travellers seek accommodations that offer halal dining options and prayer facilities. Hotels and resorts in Thailand are increasingly recognizing these preferences and are adapting to provide a more inclusive experience for Middle Eastern guests.
i. Cultural Sensitivity
Thai hospitality is known for its cultural sensitivity and respect for diverse backgrounds. Middle Eastern tourists find that Thai staff are attentive to their needs and cultural expectations, enhancing their overall experience.
C. Challenges Faced by Middle Eastern Travelers in Thailand
While Thailand offers an array of luxurious accommodations and unforgettable experiences for Middle Eastern travellers, it's essential to acknowledge some of the challenges they might encounter during their journey:
1. Language Barrier: While many staff at upscale hotels and resorts speak English, there might still be language barriers in more remote areas. Middle Eastern tourists should consider learning a few basic Thai phrases or using translation apps to facilitate communication.
2. Cultural Differences: While Thailand is generally welcoming to tourists from all backgrounds, some cultural differences might lead to misunderstandings. Middle Eastern travellers should familiarise themselves with Thai customs, such as the importance of removing shoes before entering homes or temples, to show respect.
3. Halal Food Availability: While many accommodations offer halal dining options, it might not be as readily available in certain areas. Middle Eastern travellers should plan their dining choices carefully and communicate their dietary preferences clearly.
4. Travel Restrictions: Middle Eastern travellers should stay informed about visa requirements, travel advisories, and any specific restrictions or regulations imposed by both their home country and Thailand. The travel landscape can change, especially in times of global events or health crises.
5. Weather Considerations: Thailand's climate can vary greatly by region and season. Middle Eastern tourists should be aware of weather conditions and plan their travel accordingly to avoid monsoons or extreme heat.
D. Success Stories: Memorable Stays and Unforgettable Experiences in Thailand
While challenges are an inevitable part of any travel journey, the success stories of Middle Eastern travellers in Thailand reveal the rewarding and transformative experiences that await those who venture to this enchanting destination. Here are some inspiring success stories:
1. A Magical Family Retreat:
The Al-Mansoori family from Dubai, UAE, embarked on a family vacation to Phuket, Thailand. They chose a luxury beachfront villa and experienced the epitome of relaxation and rejuvenation. The family indulged in water sports, explored lush jungles, and bonded over sumptuous Thai cuisine. "Our time in Thailand was like a dream," says Mrs. Al-Mansoori. "We created memories that will last a lifetime."
2. Finding Peace in Chiang Mai:
Ahmed, a businessman from Riyadh, Saudi Arabia, sought a serene escape from his hectic life. He ventured to Chiang Mai, where he stayed at a tranquil wellness retreat surrounded by lush mountains. Daily meditation, yoga sessions, and holistic spa treatments helped him find inner peace. "Thailand provided the perfect setting for my personal journey of self-discovery," Ahmed reflects.
3. A Culinary Adventure:
The Hamdi sisters from Kuwait are passionate foodies. Their culinary journey in Bangkok was a highlight of their trip. From street food vendors to Michelin-starred restaurants, they explored the diverse flavours of Thai cuisine. "We never imagined Thai food could be so delicious and varied," says Sara Hamdi. "We're leaving with a newfound love for Thai cuisine."
Conclusion: Unforgettable Luxury in Thailand
Thailand's diverse landscape, warm hospitality, and commitment to luxury make it an irresistible destination for Middle Eastern travellers seeking unforgettable experiences. Whether it's the urban elegance of Bangkok, the tropical paradise of Phuket, the cultural immersion of Chiang Mai, or the tranquil beaches of Koh Samui, Thailand offers a wealth of accommodations that cater to the unique preferences of Middle Eastern guests. With a harmonious blend of luxury, comfort, and cultural immersion, Thailand continues to be a top choice for travellers from the Middle East, promising luxury stays and comfortable days filled with cherished memories and experiences.