By Danish Ahmed
Blog Published on - 17 April - 2023
What to Expect During Knee Replacement Surgery in India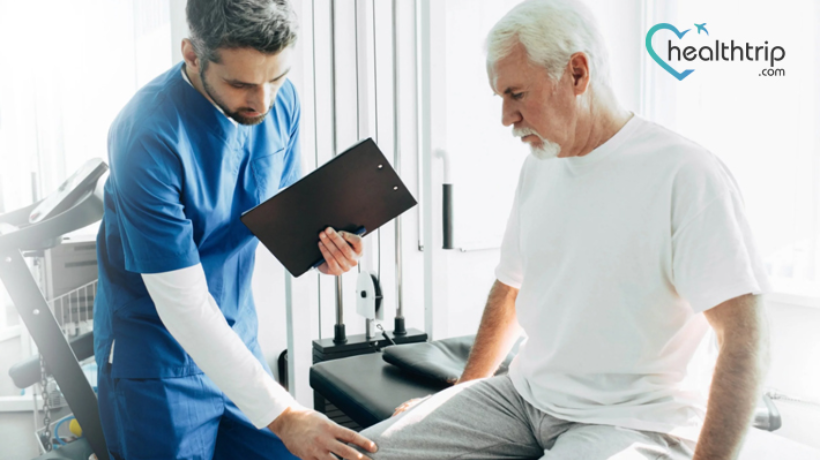 Knee replacement surgery, also known as knee arthroplasty, is a surgical procedure that involves replacing a damaged or worn-out knee joint with an artificial joint made of metal or plastic. India is a popular destination for medical tourism, including knee replacement surgery, due to its high-quality healthcare facilities, experienced surgeons, and affordable costs. Here's what you can expect during knee replacement surgery in India:
Book free consulting session with HealthTrip expert
1. Preoperative preparation:
Before the surgery, you will undergo a series of tests to assess your overall health and the extent of the damage to your knee joint. Your doctor will also review your medical history and discuss the procedure, including the risks and benefits, with you.


2. Anesthesia:
Knee replacement surgery is typically performed under general anesthesia, which means you will be unconscious during the procedure. Alternatively, your doctor may use regional anesthesia, which involves numbing the lower half of your body.
3. Incision:
Once you are under anesthesia, your surgeon will make an incision on the front of your knee to access the damaged joint. The incision may be several inches long, depending on the extent of the damage.
4. Reshaping the bone:
Your surgeon will then reshape the ends of the thigh bone (femur) and shin bone (tibia) to accommodate the artificial joint. If the kneecap (patella) is damaged, it may also be resurfaced or replaced.
5. Implantation of the artificial joint:
Your surgeon will then attach the artificial joint to the reshaped bones using bone cement or press-fit techniques. The joint is made up of metal and plastic components that mimic the movement of a healthy knee joint.
6. Closure of the incision:
Once the artificial joint is in place, your surgeon will close the incision with stitches or staples and cover it with a bandage or dressing.
After the closure of the incision during knee replacement surgery, a sterile dressing or bandage will be applied to the surgical site. The dressing will be changed regularly to prevent infection and to monitor the healing progress of the incision.
Some surgeons may also use a drain, which is a small tube placed in the incision to remove any excess blood or fluid that may accumulate after surgery. The drain is usually removed a few days after surgery, depending on the amount of drainage.
To prevent blood clots, you may be given compression stockings to wear and blood-thinning medications. Your doctor may also recommend early mobilization and exercises to help prevent blood clots and improve circulation.
After the surgery, you will be monitored closely for any signs of infection, such as fever, redness, swelling, or drainage from the incision. Your doctor will prescribe antibiotics to prevent infection and may recommend a postoperative infection prevention program.
In some cases, patients may experience complications such as implant failure, dislocation, or loosening of the artificial joint. If this happens, revision surgery may be required to replace the artificial joint or to address any other issues.
It is important to follow your doctor's instructions for post-operative care and rehabilitation, including attending follow-up appointments, taking medications as prescribed, and participating in physical therapy. With proper care and rehabilitation, most patients experience significant improvement in their mobility and quality of life after knee replacement surgery.
7. Recovery:
After the surgery, you will be taken to a recovery room where you will be closely monitored as you come out of anesthesia. You will then be moved to your hospital room where you will begin your recovery process, which may include physical therapy and pain management.
8. Post-operative care:
Your doctor will provide you with detailed instructions on how to care for your knee and manage your pain after surgery. You will also need to attend follow-up appointments to monitor your progress and ensure that your knee is healing properly.
9. Rehabilitation:
Rehabilitation is an essential part of the recovery process after knee replacement surgery. A physical therapist will work with you to develop a personalized rehabilitation program that includes exercises to improve your strength, flexibility, and range of motion.
10. Pain management:
Pain is a common side effect of knee replacement surgery, but your doctor will prescribe medications to manage your pain and ensure your comfort during the recovery process.
11. Length of hospital stay:
The length of your hospital stay will depend on various factors such as the extent of the surgery, your overall health, and your progress in recovery. In general, patients stay in the hospital for 3-5 days after knee replacement surgery.
12. Cost:
The cost of knee replacement surgery in India is significantly lower than in many other countries, making it a popular destination for medical tourists. However, it is important to research and choose a reputable hospital and surgeon to ensure the quality of care.
13. Risks and complications:
Like any surgical procedure, knee replacement surgery comes with risks and potential complications such as infection, blood clots, nerve damage, and implant failure. Your doctor will discuss these risks with you before the surgery and take steps to minimize them.
14. Success rate:
Knee replacement surgery has a high success rate in relieving pain and restoring mobility, with most patients experiencing significant improvement in their quality of life. However, the success of the surgery also depends on factors such as patient age, overall health, and adherence to rehabilitation and follow-up care.
In conclusion, knee replacement surgery in India is a safe and effective way to alleviate pain and improve mobility for patients with severe knee joint damage. With proper preparation, anesthesia, incision, reshaping the bone, implantation of the artificial joint, closure of the incision, and post-operative care, patients can expect a successful recovery and a restored quality of life. However, it is important to research and choose a reputable hospital and surgeon and to be aware of the risks and potential complications associated with the surgery.