Glaucoma Laser Eye Surgery Success Rate, Benefits, Types All You Need to Know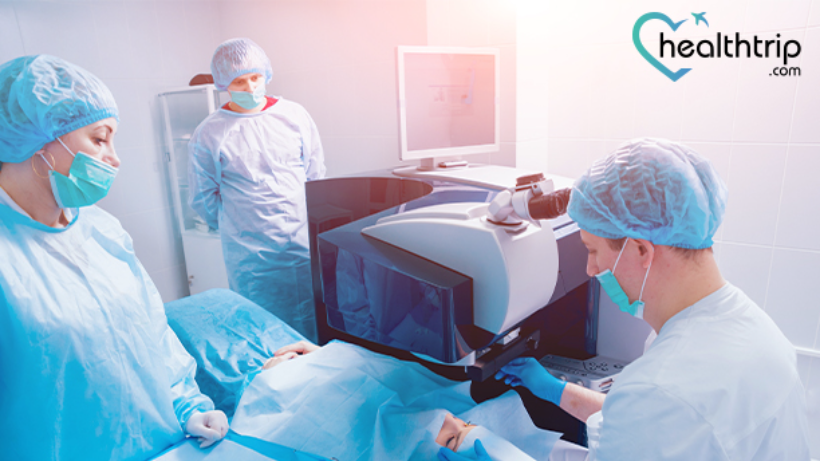 Overview
As per the report, almost 12 million people in India suffer from glaucoma. And this causes blindness for over 1.5 million people, making it the third most common cause of blindness. The good news is that glaucoma can be cured if treated early. With recent advancements in medical sciences, various options including laser surgery, are used to treat such conditions. Here we've discussed laser surgery in detail and its success rate in treating glaucoma over recent years.
Book free consulting session with HealthTrip expert
What are the various types of laser surgery available for treating glaucoma?
When medications are unlikely to work, or produce intolerable side effects in open-angle glaucoma (the most common form of this eye disease), laser surgery is frequently used.
If eye drops are not working properly, laser surgery may be the first line of treatment for some patients.
Some patients, for example, do not want to use daily eye drops because they are difficult to administer consistently, have side effects, or are expensive. Laser therapy may be the first option for these patients.
As a patient of laser treatment, you can weigh the risks, benefits, and side effects of laser treatment versus medications to determine the best treatment option for you with your doctor.
Also, read - Things You Should Know Before Having Laser Treatment For Eyes
The following are the various treatment options for treating glaucoma with laser
Laser Trabeculoplasty: Several types of open-angle glaucoma are treated with laser trabeculoplasty. It is used less frequently in angle-closure glaucoma after iridotomy has opened the drainage system or in mixed-mechanism glaucoma, which includes both open and closed angle glaucoma.
Selective laser trabeculoplasty: Used to treat primary open-angle glaucoma.
SLT(selective laser trabeculoplasty) employs a laser that operates at extremely low levels. It "selectively" treats specific cells while leaving untreated areas of the trabecular meshwork alone. As a result, SLT can be safely repeated. SLT may be an option for those who have been treated unsuccessfully with ALT(argon laser trabeculoplasty) or for those whose blood pressure drops during surgery.
Argon laser trabeculoplasty: The laser beam opens the fluid channels of the eye, allowing the drainage system to function more effectively. Medication will still be required in many cases.
Half of the fluid channels are usually treated first. If necessary, the other fluid channels can be treated in a subsequent session. This method avoids over-correction and reduces the risk of increased pressure after surgery.
Argon laser trabeculoplasty has been shown to reduce eye pressure in up to 75% of patients.
Laser peripheral iridotomy: When the angle between the iris and the cornea in the eye is too small, narrow-angle glaucoma (also known as angle-closure glaucoma) develops. This causes the iris to become clogged, increasing inner eye pressure. LPI creates a small hole in the iris, allowing it to fall back from the fluid channel and aiding in the drainage of the fluid.
Glaucoma is often worsened by the increased IOP(intraocular pressure) inside the eye. This causes progressive damage to the optic nerve fiber. Through the above-mentioned laser surgeries, the IOP can be reduced significantly.
Also, read - Laser Treatment for Glaucoma
What are the benefits of laser treatment for glaucoma?
As per research studies published by the Glaucoma Research Foundation, laser treatment for treating glaucoma carries an excellent benefit-to-risk profile.
Furthermore, given the difficulties people have with eye drops, such as costs, allergies, side effects, forgetfulness, and complicated eye drop schedules, this(laser treatment) has undoubtedly been helpful when used as primary therapy for new glaucoma patients.
Success rates of glaucoma surgery
The success rate of laser surgery in lowering eye pressure by 20% is approximately 60-70%. This is an ideal procedure for many patients because it can either eliminate or reduce the need for eye drops, but it is important to remember that the laser procedure is not a "cure." The laser's effect can fade over time, but it can be repeated. You may need to undergo another laser surgery if required.
How can we help with the treatment?
If you are in search of eye treatment or glaucoma operations in India, our health trip advisors will serve as your guide throughout the treatment. They will be physically present with you even before the medical treatment begins. The following will be provided to you:
Opinions of expert physicians and surgeons
Transparent communication
Coordinated care
Prior appointment with specialists
Assistance with hospital formalities
24*7 availability
Arrangement for travel
Assistance for accommodation and healthy recovery
Assistance in emergencies

We are dedicated to offering the highest quality medical tourism in India to our patients. We have a team of highly qualified and devoted health trip advisors who will be by your side from the beginning of your journey.