Fortis Hospitals' Comprehensive Dental Care Services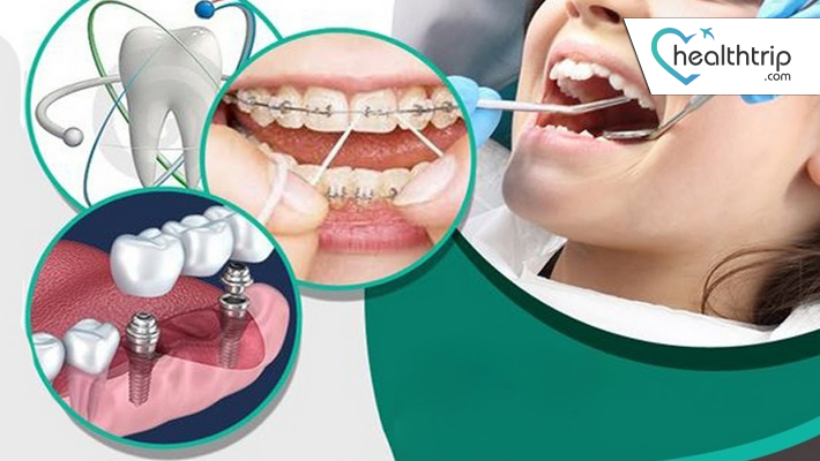 Fortis Hospitals has become one of the most well-respected healthcare providers in India, with a reputation for providing top-quality healthcare services across a range of specialties. One of the areas in which Fortis has particularly excelled is in dental care. Fortis Hospitals' comprehensive dental care services are second to none, offering patients access to some of the most advanced dental technology and expertise available.
Book free consulting session with HealthTrip expert
With multiple dental clinics and experienced dentists located across India, Fortis Hospitals is committed to providing high-quality dental care that is both accessible and affordable. Here, we'll take a closer look at the services offered by Fortis Hospitals' dental care team, and why they are among the best in the country.
A Wide Range of Dental Treatments
One of the key strengths of Fortis Hospitals' dental care services is the range of treatments on offer. Whether you need a routine dental check-up, a complex orthodontic procedure, or anything in between, Fortis has you covered. Some of the treatments available at Fortis include:
Routine Dental Check-ups: Regular dental check-ups are essential to maintaining good oral health. Fortis Hospitals' experienced dentists will perform a thorough examination of your teeth and gums, checking for any signs of decay or gum disease. They will also provide advice on how to keep your teeth and gums healthy.
Dental Implants: If you have missing teeth, dental implants may be the best option for restoring your smile. Fortis Hospitals' dental care team uses the latest implant technology and techniques to provide patients with long-lasting, natural-looking results.
Orthodontics: Crooked or misaligned teeth can cause a range of problems, from difficulty chewing to low self-esteem. Fortis Hospitals' orthodontists use a variety of techniques to correct these issues, including traditional braces, clear aligners, and lingual braces.
Cosmetic Dentistry: If you're unhappy with the appearance of your teeth, cosmetic dentistry can help. Fortis Hospitals' cosmetic dentists offer a range of treatments, including teeth whitening, veneers, and bonding, to give you a brighter, more attractive smile.
Root Canal Treatment: If you have a tooth that is infected or damaged, a root canal may be necessary to save it. Fortis Hospitals' endodontists are experts in this procedure, using the latest technology and techniques to ensure a successful outcome.
State-of-the-Art Technology
At Fortis Hospitals, the dental care team is equipped with the latest technology to ensure the best possible outcomes for patients. Some of the advanced technologies available at Fortis include:
Digital X-rays: Digital X-rays produce high-quality images with minimal radiation exposure, making them a safer and more efficient alternative to traditional X-rays.
Intraoral Cameras: These small cameras can take detailed images of the inside of the mouth, making it easier for dentists to diagnose and treat dental problems.
Cone Beam CT Scans: This type of CT scan produces 3D images of the teeth, jaw, and other structures in the mouth. It is particularly useful for planning complex dental procedures, such as dental implant placement.
CAD/CAM Technology: This technology allows dentists to create custom-made dental restorations, such as crowns and bridges, in a single visit. This saves patients time and reduces the need for multiple appointments.
Laser Dentistry: Lasers can be used in a variety of dental procedures, from gum disease treatment to teeth whitening. They are safe, precise, and can help reduce discomfort and recovery time.
Expert Dentists and Specialists
Fortis Hospitals' dental care team includes some of the most experienced and highly skilled dentists and specialists in India. These professionals have undergone extensive training and have years of experience treating a range of dental problems. They are committed to staying up-to-date with the latest advances in dental technology and techniques, ensuring that patients receive the best possible care.
Some of the dental specialists available at Fortis Hospitals are:
Endodontists: These specialists focus on the diagnosis and treatment of problems related to the inside of the tooth, such as root canals.
Periodontists: Periodontists specialize in the diagnosis and treatment of gum disease and other conditions affecting the gums and supporting tissues of the teeth.
Prosthodontists: Prosthodontists specialize in the restoration and replacement of missing or damaged teeth, using techniques such as dental implants, bridges, and dentures.
Orthodontists: Orthodontists specialize in the diagnosis and treatment of misaligned teeth and jaws, using techniques such as braces and clear aligners.
Oral and Maxillofacial Surgeons: These specialists perform a range of surgical procedures related to the mouth, teeth, and jaw, including wisdom tooth extraction, dental implant placement, and corrective jaw surgery.
Compassionate and Patient-Centered Care
At Fortis Hospitals, the dental care team is committed to providing compassionate, patient-centered care. They understand that many people are anxious about visiting the dentist and work hard to create a comfortable and welcoming environment. They take the time to listen to patients' concerns and explain their treatment options in detail, ensuring that patients feel empowered to make informed decisions about their dental care.
In addition, Fortis Hospitals' dental care team is committed to using minimally invasive techniques whenever possible, to reduce discomfort and promote faster recovery times. They also prioritize patient education, providing advice on how to maintain good oral hygiene and prevent dental problems from occurring in the first place.
Affordable and Accessible Care
Fortis Hospitals' dental care services are designed to be both affordable and accessible. They offer a range of payment options, including cash, credit/debit cards, and insurance, to ensure that patients can receive the care they need without breaking the bank. They also offer flexible appointment scheduling, with clinics open on weekends and in the evenings to accommodate patients' busy schedules.
In addition, Fortis Hospitals' dental care team is committed to reaching out to underserved communities, providing free dental check-ups and treatment to those who may not have access to regular dental care.
Conclusion
Fortis Hospitals' comprehensive dental care services are among the best in India, offering patients access to state-of-the-art technology, expert dentists and specialists, and compassionate, patient-centered care. With a wide range of treatments available, including routine check-ups, dental implants, orthodontics, cosmetic dentistry, and more, Fortis Hospitals is equipped to handle any dental problem that may arise.
If you're looking for top-quality dental care in India, Fortis Hospitals should be at the top of your list. Their commitment to excellence, affordability, and accessibility make them an excellent choice for anyone in need of dental treatment.